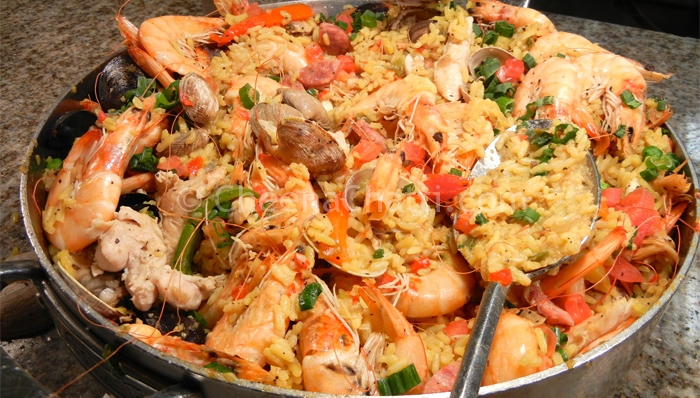 Prepration time:
60 Minutes
Persons served:
4 Persons
ingredients
Chicken stock - 1 Liter
Salt - to taste
Water - 1 Liter
Ripe tomatoes - 500 g
Dry red chillies - 10 nos
Chicken (thigh portion / pieces ) - 1 kg
Salt - to taste
Olive oil - 1/3 cup
Chopped Onions - 200 g
Chopped Sausage - 500 g
Garlic - 1 whole
Saffron - ½ tsp
Basmati rice - 1 kg
Prawns - ½ kg
Cleaned Mussels - 10 nos
Cooked green peas- 200 g
Coriander leaves - 1 bunch
Mexican Paella is a rice dish just like Indian biriyani, but it is different from the original Spanish paella. Paella is now an international food. There are three types of paella, Valencian (Meat of land animals), Seafood (Only sea foods, no vegetables) and Mixed (Sea food, meat of land animals and vegetable). Here I will share with you the mixed paella recipe contributed by our friend Shirly James.
Directions
In a heavy bottom pot, boil the chicken stock , salt and water and keep it aside.
Slice the tomatoes and fry them without oil. When the tomatoes turn brown remove them from fire and make it into a fine paste in a mixer and keep it aside.
Similarly you need to fry the dry red chillies (also without oil) till you get a chilli sting in the air. Remove it from fire, allow to cool and crush it with your fingers and keep aside.
Marinate the chicken with salt and keep aside.
In a large pan with a lid and heat the olive oil and fry the chicken pieces in the oil till they turn golden in color and keep aside.
Add the onions and sausages to the remaining oil and keep frying till the onions turn brownish.
Add the garlic and saute well.
Add tomato paste, saffron and dried red chillies. Stir continuously.
When the mix get thickens and oil surfaces at the top add the rice and stir it well on a high flame.
Add the chicken stocks and keep mixing the broth from the sides and from the bottom at one minute intervals.
When the rice become about 3/4th done make a gap in the center and fill in the chicken along with prawns and mussels. Cover and cook it on low flame for around 10 minutes till the mussels, prawns and rice are done.
Keep the lid on for another 10 more minutes.
Garnish the rice with peas and coriander leaves. Slowly mix the rice, chicken and prawns together.
Paella can be served warm at room temperature well with salsa or sour cream. Try it and let me know your comments.