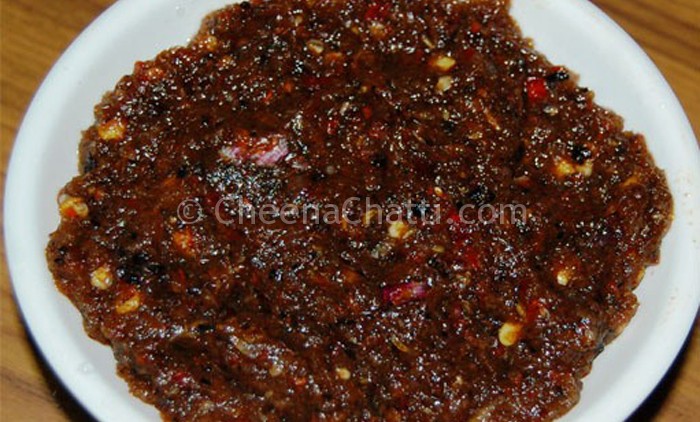 Prepration time:
5 Minutes
Persons served:
3 Persons
ingredients
Dry red chillies : 5
Shallots : 8
Tamarind : a tiny piece
Curry leaves : few
Salt : to taste
Oil : 2 tsp
I don't think Mulaku Chammanthi needs any introduction to a Keralite. Its part of Kerala culture and its a nostalgia for all of us. I am sure that your mouth starts watering on seeing the above photo.
Preparing Mulaku Chammanthi is nothing like rocket science. This is an easy to prepare dip which every Keralites know.
For the sake of this post, let me introduce you to this mulaku chammanthi – this is an exact copy of my mothers recipe.  Knowing my love for this, my mom always included it in my lunch box 😉 Love you mom… She also prepares it occasionally for lunch / dinner because its an easy to prepare one and we all love it.
Mulaku Chammanthi preparation
Smash the shallots, red chillies together.
In a pan, heat 1 teaspoon of oil and saute the dry red chillies along with curry leaves till the chillies turns dark brown (Don't burn the chillies) and keep it aside.
Add shallots to the pan. Saute it well till it becomes golden brown.
Grind the chillies, curry leaves, salt and roasted shallots along with tamarind to a paste form. Donot add any water while grinding.
Transfer it to a bowl and add 1 teaspoon of coconut oil.
This spicy mulaku chammanthi / red chilly chutney goes well with chenda murian kappa (cooked Tapioca or Cassava) or Kanji (Cooked rice).
Have you tried our other chammanthi recipes too?