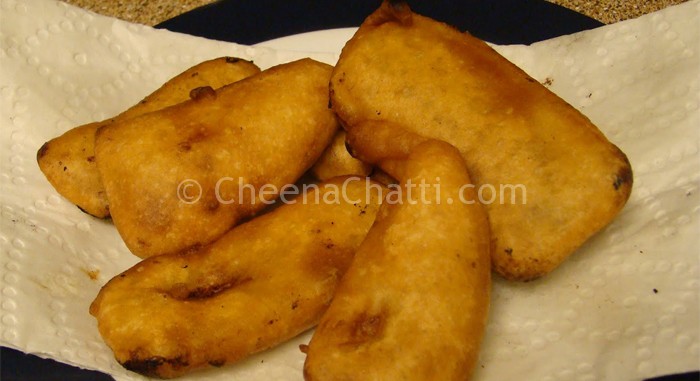 Prepration time:
15 Minutes
Persons served:
4 Persons
ingredients
Ripe Kerala Plantain : 4 nos
All Purpose Flour (Maida) : 1 Cup
Sugar : 2 Teaspoons
Baking Powder : 1⁄4 Teaspoon
Salt : 1 Pinch
Water : 3⁄4 Cup
Turmeric Powder : 1 Pinch
Coconut Oil : For deep frying
Pazham pori aka Ethakka appam or banana (Kerala Plantain) fritters is a traditional evening snack item in Kerala. Its available throughout Kerala and all most all Keralites prepares it the same way. Its simply ripe banana's coated with flour and deep fried in oil.
Pazham pori Preparation
Mix the all purpose flour, sugar, baking powder, salt and water in a dish and blend it thoroughly to form a semi thick batter.

Add a pinch of turmeric powder to the batter to color a bit.
Peel the bananas and slice them length wise into half and then slice each halfway into 3 or more to get the thin slices.
Dip the slices in batter and evenly coat them.
In a deep bottom frying pan heat some oil.
When the oil becomes hot, dip the batter coated banana pieces and fry them until they become golden brown. Flip them in between.
Remove from oil and drain the excess oil with paper napkins /  kitchen towel.
Serve it hot.
Tips
Its better to use the Kerala plantains (nendra pazham) for the preparation.

Some people add a little of crushed cumin seeds (ജീരകം) to the batter. You can add it if you want.
Its better to serve it when the snack is still hot.