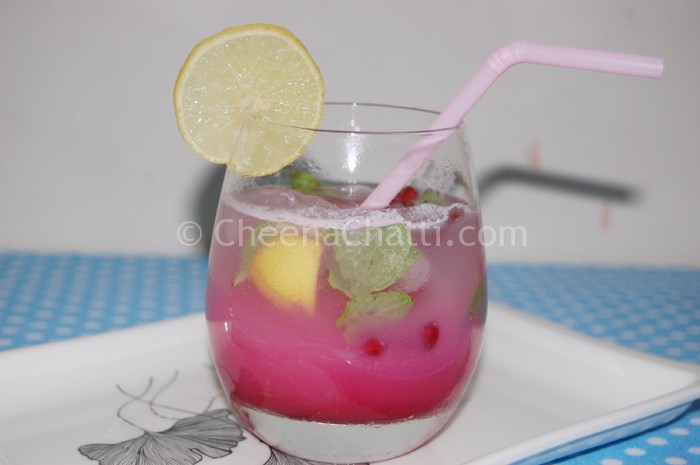 Prepration time:
15 Minutes
Persons served:
3 Persons
ingredients
Pomegranate seeds : 3 cups
Sugar : 6-7Tbsp
Lemon : 1 cut into round and the rest to wedges
Mint leaves : a few
Crushed Ice : To fill the glasses.
Pomegranate (Punica Granatum)  is one of the oldest known fruits, with its origin in Persia.  These fruits have been cherished for their exquisite beauty, flavor, color, and health benefits for centuries. They are nutrient dense, antioxidant rich fruits and has been considered as a symbol of health, fertility and eternal life. Sometimes it is also referred to as a Chinese apple. Some scholars believe that the forbidden – yet irresistible – fruit in which Eve indulged within the Garden of Eden (in Bible) was actually a pomegranate.
Here is a recipe of Pomegranate Mojito (pronounced as Pomegranate MoHito), an excellent healthy mocktail drink for throwing an evening party.
Preparation of Pomegranate Mojito
Powder sugar and keep aside.
Grind 2 1/2 cups of pomegranate seeds and filter the juice.
Mix the powdered sugar with the juice.
Keep 3 glasses ready.
Squeeze out the juice of a lemon into the glass and put the rind in.
Crush 3-4 mint leaves and put in.
Add 1 table spoon of pomegranate seeds in each of the glasses.
Pour the filtered juice equally in.
Generously add crushed ice to fill the glasses.
Again add 2-3 crushed mint leaves and rest of the pomegranate seeds.
Decorate the glass with round cut lemon piece and a beautiful straw.
Enjoy your party with the Pomegranate Mojito.
Nutritional facts
Laboratory researches and clinical trials has shown that, pomegranate juice may be effective in reducing heart disease risk factors, hypertension, improve LDL oxidation, macrophage oxidation, and foam cell formation.