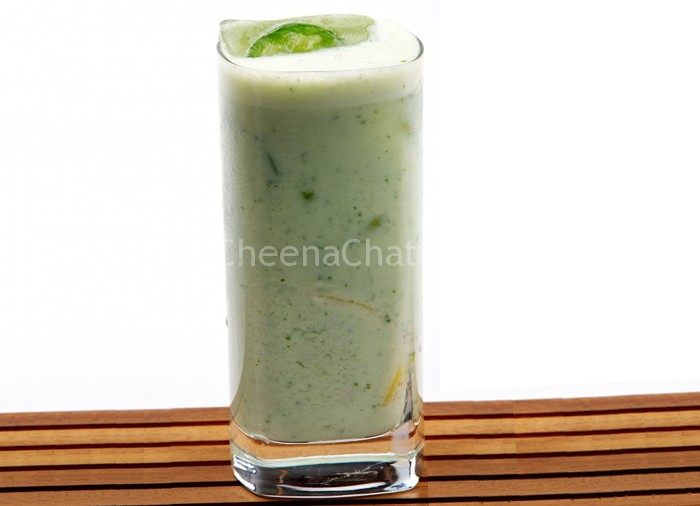 Prepration time:
15 Minutes
Persons served:
3 Persons
ingredients
Low fat Yoghurt : 1 cup
Water : 2 cups
Curry leaves : 2 sprigs
Coriander Leaves : Few
Ginger : 2inch piece
Green chillies : 2 nos
Salt : to taste + a pinch more
Crushed ice : as needed
Sambaram, morum vellum (in Malayalam) / Majjige (Telugu) / Majjige Huli (Kannada) / Mor (Tamil) are all the local names for Butter milk. Today I will share this Sambaram recipe to prepare salty, tangy and spicy, light-green drink which is an instant energy booster in an active afternoon.  Adding a little spice to sambaram will makes it a good refreshing drink in a hot summers. Its also served at the end of sadhya / Kerala feast which helps in improving the digestion.
This drink is considered to be originated in Kerala. This was the welcome drink in all Kerala families in the past.
Don't forget to try this natural refresher next summer.
Sambaram recipe
Whip the Yoghurt and add the water to it.
Clean and separate the curry leaves from the stalk. Chop the curry leaves along with ginger and green chillies.
Add few crushed ice cubes along with salt, and blend all the ingredients together.
Puree until smooth.
Strain the mixture through a fine-mesh strainer, if you wish.
Transfer to a large pitcher and chill in the refrigerator for 10-15 minutes.
Fill tall glasses halfway with the ice cubes.
Pour the chilled butter milk into these glasses.
Top with a spoonful of foam (from blending) on top and coriander leaves.
Enjoy 🙂