Chakka ularthiyath (Jackfruit curry) recipe – Kerala style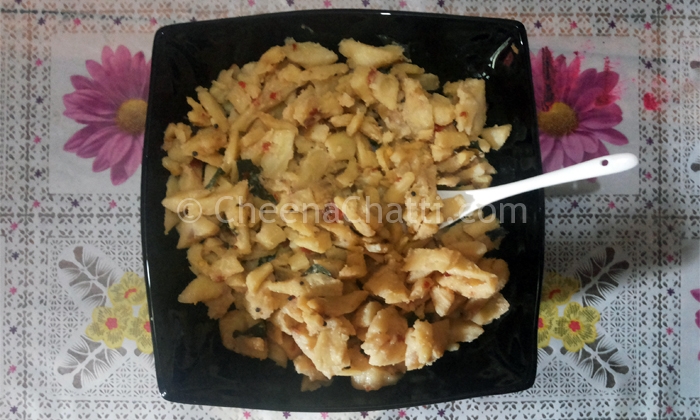 Ingredients
Green Jack Fruit : 2 large cups
Turmeric powder : 1 tsp
Water : 2 cups
Shallots : 10 nos
Red chilly : 6 nos
Mustard seeds : 1 tsp
Curry leaves : 1 sprigs
Oil : 2 tblspoon
Salt : as needed
Though I live in a village area, I haven't tasted Chakka thoran / chakka ularthiyath till yesterday. After tasting it, I feel sad for not trying it so far. Friends, this is a native kerala dish you should try atleast once.
My grandmother came home yesterday and seeing the ripe jackfruits in the courtyard, she asked to pull down one. Together we all prepared this jackfruit curry. It was an extremely delicious one and I'm really feeling sad for not trying this before. Friends, you should try this at home.
Here goes the lovely recipe from my grandmother for this traditional kerala dish. She knows a lot of jackfruit recipes and I have shared many of them here in Cheenachatti.
Chakka ularthiyath / Chakka thoran / Jackfruit curry
Slice the green jackfruits into ring sized pieces and wash it.
Pressure cook the sliced jackfruits, salt, turmeric powder and water up to 2 whistles and turn of the flame.
Crush the shallots, red chillies in an mixer.
In a pan add oil, mustard seeds and saute.
When the seeds begin to crackle add the curry leaves, the crushed shallots and red chillies.
Saute, them till it becomes brownish.
Add the cooked jackfruit and mix it well.
Serve it hot.
This can be served as a main dish or as a side dish along with rice.
This entry was written on November 24th, 2016 by
Cini P Moideen
in
Breakfasts and Dinners
and tagged with
kerala chakka curry
,
chakka varattiyathu
,
jackfruit curry
,
jackfruit
,
chakka thoran
,
jackfruit recipe
,
kerala chakka
,
kerala chakka thoran
,
chakka ularthiyath
. Last revised on
December 1st, 2016.
More mouth watering recipes!