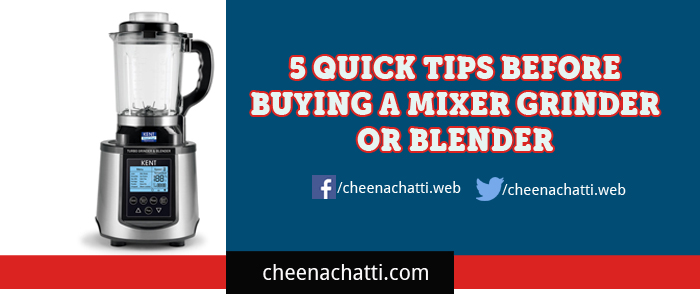 Of all the appliances that we use in our kitchen, grinder and blender are among the most useful. They assist in numerous tasks other than the obvious ones. You can make ice creams, batter, soup, porridge, dips, powdered items and more with a grinder and blender. It is a handy appliance that makes cooking easy and fun. Many people rely on a grinder and blender for their everyday cooking. However, not all products are same, and it can be difficult to zero-in on a grinder and blender that serves your best interests. Different mixers and grinders come with distinct features, and some are better than the others.
Here's what you need to know before buying a grinder and blender for your kitchen –
Use and Type
Blenders and grinders come in an entire range of use-cases, and types. The kind of food that you frequently be processing will impact your choice of the appliance. There are two types of such appliances viz. Handheld Blenders and Tabletop Grinders and Blenders.
Handheld Blenders – They are slick, thin and can be held in hand. These types of blenders are immersed in the food you want to mix. They are not ideal for grinding and are more suited for simple tasks like pureeing boiled vegetables or blending You cannot set temperature in a handheld blender.
Grinder and Blenders – These appliances vary in wattage, uses, features and overall performance. A complete appliance, they have features and pre-set functions for convenient and precise cooking.
Wattage
The power of the motor is denoted by the wattage of the grinder and blender. The higher the wattage, the more power is put down on the motor. High wattage is useful when you have to grind tough food items, or when preparing the batter. The latest addition in market, KENT Turbo Grinder and Blender uses 3,000 watts of power and can achieve a maximum speed of 30,000 rpm, which is enough to grind anything you put into the jar. You can easily crush dry fruits, make dosa batter, grind vegetables.
Ease of Use
When looking for a grinder and blender, you need to whether the appliance is convenient to use and user-friendly. You must also consider the assembling, operations, and controls before buying a grinder and blender. The 12 preset features in above mentioned blender are handy, and one can prepare juices, milkshakes, smoothies, ice cream, porridge, soup and more with just a push of a button. Some of the grinders and blenders also have an LCD Screen that displays the temperature, and errors if the jar lid is not secured properly. Such intuitive features make a grinder and blender worth your money.
Safety
Safety is of paramount importance and the grinder must have proper earthing and a cutout. Most modern grinders have an inbuilt system that protects the appliance from overheating and over current (e.g: KENT Grinder). These grinders will not power up if the jar is not secured properly.
Day-to-Day Maintenance
It goes without saying how people are concerned about doing the dishes after eating. If cleanliness is a major concern for you, consider buying something that is easy to clean. However, not at the cost of the features mentioned above. Cleaning the modern grinders is easy as you only have to wash the jar using warm water and soap.
A grinder and blender not only saves time but it assists in cooking a range of food items. It gives you an access to healthy food options like porridge, juices, smoothies, shakes and more. Bring home a grinder and blender and step towards healthier living without compromising on taste.
If you find anything important I missed, please add them in your comments.