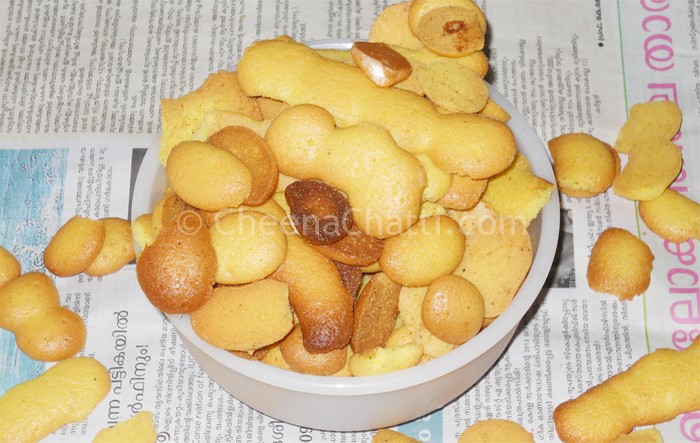 Prepration time:
45 Minutes
Persons served:
6 Persons
ingredients
Eggs : 2 (At room temperature)
Sugar : 2/3 Cup
All purpose Flour / Maida : 6 tbsp
Baking Powder : 2 pinches
Vanilla Essence : 1 tsp
These beans biscuits (I am not sure about the name) are something that reminds me of my childhood days. Knowing my love for this, it was the most purchased bakery item for me by my father. Now also I purchase it for my kids when ever I visit a bakery and they loves it just like their mamma 🙂 . Fortunately, its a common snack available in almost all bakeries in Kerala 😉
Recently I found the recipe for these beans biscuit in a FB group I am member of. Seeing that, I immediately gave it a try, and it was having the same old taste. Thanks to Jomon Kalathinkal for sharing the recipe.
Preparation of beans biscuits
Preheat oven to 120˚C/250˚F.
Line a baking sheet with parchment paper and apply a thin coating of butter or oil.
Sieve the all purpose flour with baking powder thrice and keep it aside.
With the help of a hand mixer, beat the egg (preferably it should be in room temperature), and add sugar and vanilla essence till it is pale in color and doubles in volume.
Add the sieved flour-baking powder mixture to this and mix it gently with spoon.
Transfer this mixture into a sauce bottle.
Drip the batter onto the baking sheet drop by drop, from the sauce bottle to make small drops leaving some space in between the drops.
Once the baking sheet is full, put this in the middle rack of the preheated oven for around 15 minutes or till it starts to brown lightly around the edges. The biscuits will be slightly soft to touch but will harden up quickly.
You can keep these beans biscuits in an airtight container when cooled.
Note:
The texture of these cookies should be very light and crispy. Usually they are mouth melting ones.