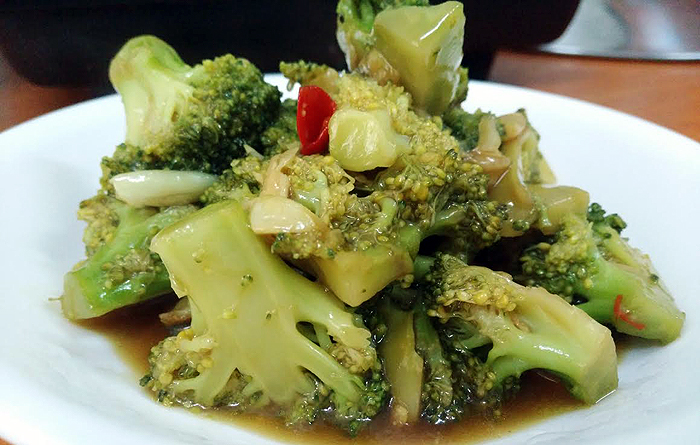 Prepration time:
15 Minutes
Persons served:
4 Persons
ingredients
Broccoli: 1 big
Turmeric powder: a small pinch
Olive oil / Sun flower oil: 1-2 table spoon
Garlic: 7-8 cloves
Red / Green chillies: 3-4
Soya sauce: 2 tablespoon
Oyster sauce: 2 tablespoon
Thai fish sauce: 2 tablespoon
Hi Friends, here we have our first Thai recipe (Broccoli stir fry) from our subscriber Dr. Suman Sulthana.
I got this recipe from my  roommate (basically Tamilian but settled in Bangkok ). Believe me this is one of the easiest recipe to have broccoli with delicious taste. And about Veg/Non Veg? Sorry we add fish sauce and it isn't a veg dish.
Thai Style Broccoli Stir Fry
Shred the broccoli florets and thoroughly washed in running water.
Let the broccoli boil in a vessel with enough water and  the lids open .
Now peel off the garlic and smash it along with the red chillies. Don't make it into a paste – just smash it and keep aside.
When broccolies are boiled, add some turmeric on top of it.
Strain the broccoli and keep it aside
In a fry pan, heat some oil, add garlic-chillies and saute for a minute.
Add the cooked broccolies and mix it well. Saute for 2-3 minutes.
Add Soya sauce, fish sauce, oyster sauce – mix well with the broccoli and keep it closed for 3 minutes in low flame.
Open the lid and saute for 2 minutes. Make sure all the sauces are coated well with broccoli.
Switch off the flame.
Serve hot with rice (more good with Thai mali rice)
Notes:
You can adjust the salt taste with adding soya sauce more or less
In order to give thickness to the dish, you can add corn flour (1-2 spoons mixed in water) in the end and saute for 2 or more minutes in high flame until thick.
You can alter the recipe with pinch of pepper powder, baking soda (which are totally optional)