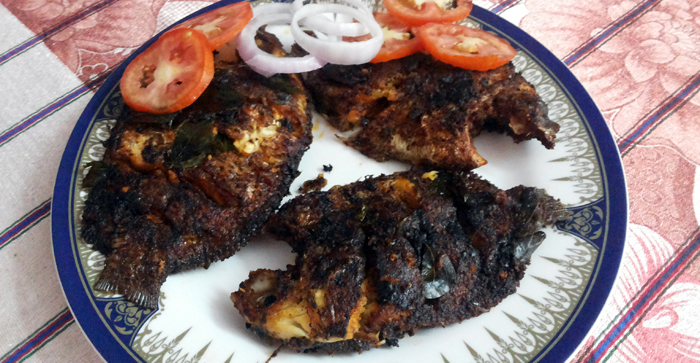 Prepration time:
1 Hour 30 Minutes
Persons served:
2 Persons
ingredients
Pearlspot fish / Karimeen (medium sized) : 2nos
Chopped Onions : ¼ kg
Chopped Ginger : a small piece
Chopped Garlic : a pod
Chopped Green chillies : 4
Turmeric powder : ¼ tsp
Pepper powder : ½ tsp
Tomatoes (finely chopped) : 4
Chill1 powder : 1 ½ tbsp
Cumin seeds : ¼ tsp
Cinnamon : 2 small pieces
Vinegar : 2 tbsp
Coconut oil : 4 tbsp
Salt – to taste
Karimeen (Pearl spot fish) Pollichathu is a typical and unique Kuttanadan (Allepey) fish preparation. It is marinated with a rich blend of hot spices and then baked in a banana leaf. If you take it once, you will always carve for it again. Here is the recipe for making Karimeen pollichathu at your home.
Preparation of Kuttanadan Karimeen Pollichathu
Clean the karimeen fishes very well and drain them well till dry.
Make obliques incisions over it.
Slice the onions, ginger , garlic and green chillies into small pieces.
Make a fine paste of Chilly powder, turmeric powder, pepper powder, and cumin seed with little vinegar.
In a heavy bottom pan (uruli) pour some coconut oil and heat it.
Fry the cinnamon pieces in the pan.
Add the #3 to the pan and saute it well.
When the onions become cooked thoroughly, add the ground paste (#4) and fry it well in a low flame.
Add the tomatoes and saute it till the raw smell goes,  and saute well again.
Add 2 cups of boiling water when the mixture is well sauteed.
Add the salt and the remaining vinegar and mix well.
Add our fish pieces into the gravy and saute it till the gravy thickens and the fish is cooked well.
Wrap each piece of fish, along with the  masala gravy in a banana leaf. Tie it securely with banana fibers and roast it on a hot tava.
Tips
Use fresh Karimeen and the taste will be awesome.
Do you need more fish fry recipes?