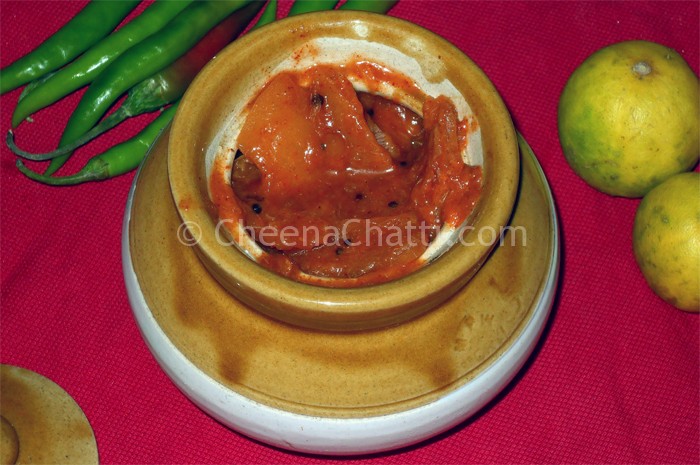 Prepration time:
30 Minutes
Persons served:
10+ Persons
ingredients
Ripe Lemons : 20 nos.
Garlic : 2 pods
Green chilly : 2 or 3 sliced lengthwise
Mustard seeds : 2 tsp.
Red chilly powder : 3 tbsp. (as per your spice level).
Asafoetida powder: 1/2 tsp.
Vinegar: 2tbsp.
Salt : 1/4 cup
Gingelly oil / Sesame oil : 2 tbsp.
Curry leaves.
Ever worried on how to prepare lemon pickles (naranga achar / cheru naranga achar) with out the bitter taste? Then your search ends here 🙂
I know there are multiple ways to prepare lemon pickles. But this recipe helps you to make the naranga achar / lemon pickle in Kerala style without any bitterness. As usual the source of this recipe is my sweet mother (who is the best cook I have seen).
Kerala Lemon pickle preparation
Select 20 numbers of ripe lemons and wash them thoroughly.
Pat dry them and steam the lemons in a vessel for 8-10 minutes. (Do not overcook them, then you cant slice them).
Remove from the flame and allow it to cool and then dry the lemons using a clean dry cloth.
Slice each of the lemon pieces into 8 pieces. If they are small ones, slice them into 4-6 pieces.
Add garlic, green chillies, put in a tbsp of salt to the sliced lemon and mix well.
In a kadai / cheenachatti / pan heat the gingerly oil and splutter the mustard seeds.
Lower the flame and add the chilly, saute for some seconds.
Add the sliced lemon pieces, garlic, chilly mix to it.
Mix it well and switch off the flame.
Add asafoetida powders, curry leaves and saute it.
Taste it and add extra salt if needed.
Add the vinegar and transfer everything into a dry bharani /glass / ceramic jar.
Heat 2 tbsp of gingelly oil and allow it to cool and then pour the oil on the top of the pickle. This will prevent fungus growth and gives it an authentic taste.
Start using the lemon pickles (naranga achar) after 3-4 weeks.
Notes
Clean the jars with hot water and make sure the jar and lids are dry before you use them for storing.
When you serve them, use clean dry spoons to avoid contact with water.
Titrate the chilly powder level depending on your tolerance.
Keep the flame lowered while adding spices else you will burn them.