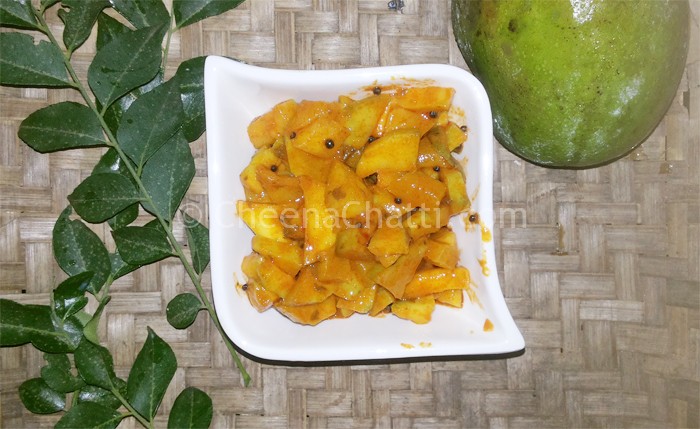 Prepration time:
60 Minutes
Persons served:
4 Persons
ingredients
Raw mango sliced : 1/2
Ginger vertically chopped : 1cup
Garlic vertically chopped : 1 tbsp
Green chilly sliced circular : 5 nos
Curry leaves : 1 sring
Mustard Seeds : 1 tbsp
Red Chilly powder : 2tbsp
Turmeric powder : 1 tsp
Asafoetida powder : 1/4 tsp
Fenugreek powder : 1/4 tsp
coconut oil saute : 3 tbsp
Salt to taste
Water : 1 cup
Its the summer season and the season of Mangoes. Let me give you an easy but tasty Kerala style instant mango pickle (Manga achar) recipe.
Preparation of Mango pickle
Peel the skin of mangoes and cut them into small pieces.

In a bowl mix the sliced mangoes, salt and keep it overnight.
On the next day, add garlic and green chillies to it.
In a pan add coconut oil, splutter the mustard seeds and curry leaves.
Add ginger to the pan and saute them till raw smell goes and reduce the flame to low.
Then add Red Chilly powder, Turmeric powder, Fenugreek powder, Asafoetida powder saute for 2 minutes (don't overheat).
Add little water to form a thick paste.
Add the ingredients in the bowl to the pan and and turn off the flame.
Mix well and transfer it to a jar and better start serving after three days.
Can be served with rice or kanji.
Tips:
Use only clean dry spoon to take the pickle. It will prevent fungal growth in the jar.

Tightly close the lid after each use. 

Don't use steel jar for storing ,because there will be reaction between the salt and the steel.
If you are using pickle powder, after the step 4, add pickle powder, warm it and saute. Skip to step 8 and continue.