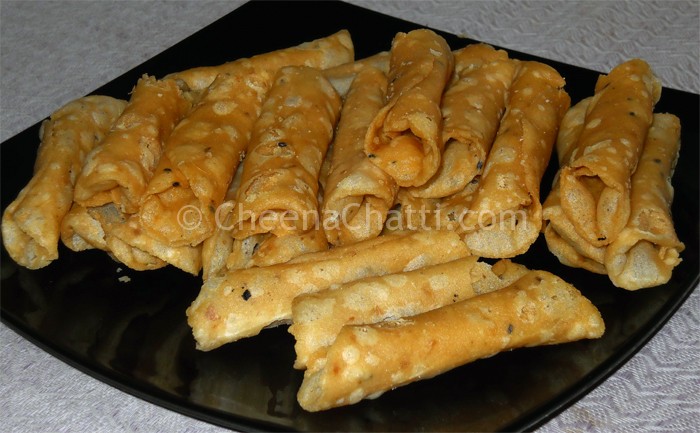 Persons served:
10+ Persons
ingredients
Rice flour : 1½ cups
Shredded coconut : ½ cup
Small onion / Shallots / Kochulli : 8 whole, chopped
Chopped garlic : 1 tsp
Cumin seeds (jeerakam) : ¼ tsp
Black sesame seeds : ½ tbsp
Salt : ½ tsp
Coconut Oil : for deep frying
Kuzhalappam aka rice flour cannoli is tube shaped snack popular among the Christians in Kerala. It is prepared by deep frying roasted rice flour along with onion, garlic, sesame seeds and cumin.
Try this preparation of Kuzhalappam following this easy recipe and let me know your comments.
Kuzhalappam Preparation
In a pan roast the rice flour for 5-6 minutes.
Grind the coconut along with shallots onion, garlic and 1/4 tsp of cumin seeds in to a  smooth paste using little water.

Add the ground mix (#2), along with the sesame seeds to the rice flour and heat for 2-3 minutes.

In a vessel, boil 1 cup of water with salt as required for the flour.
Now prepare a dough similar to that for idiyappam / rice hoppers and knead it when it is still warm. Cover it with a damp cloth and keep it idle for half an hour.
Divide the dough into small gooseberry sized balls.
Using a pathiri press / chappathi press / chapathi roller flatten each balls into thin flat discs. You can apply some oil to both sides of the press to prevent sticking.
Wrap the flattened discs around a greased rod / around the index finger / or a wooden rolling pin. Press the overlapping edges together to form a small curl. Slide it off the rod.
Repeat 6,7,8 until whole dough is used up.
Heat oil in a wok / cheenachatti / kadai on medium flame.
When the oil becomes hot, slide each of the rolled discs into the oil.
Deep fry them till it becomes golden brown in color. Flip it in between and drain into a kitchen towel.
Cool and store in airtight containers.
Tips
The thickness of the disc is your own preference. You can make thick or thin discs.
More snack recipes.