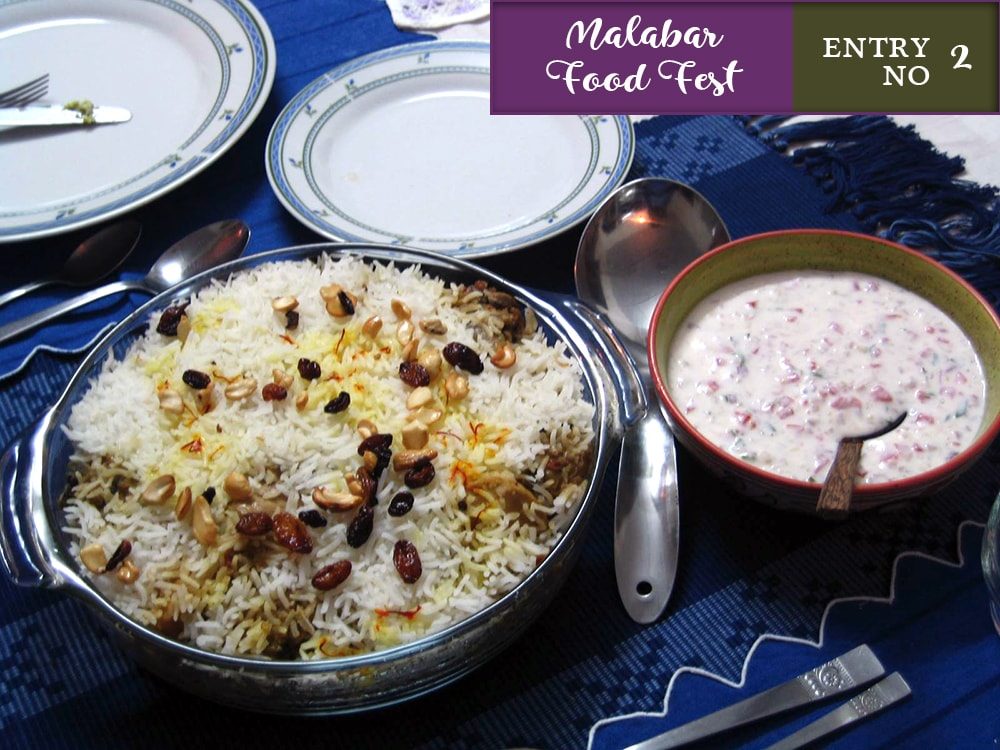 Persons served:
4 Persons
ingredients
Chicken cuts 800g
Basmati rice 400g
Onions 250g
Green chilies 20g
Ginger 20g
Tomatoes 100g
Ghee 200ml
Oil 100ml
Turmeric powder 4g
Coriander leaves 25g
Lime 1
Cardamom green 10 nos
Cloves 10 nos
Cinnamon 1" sticks 5 nos
Cashew nuts broken 50g
Raisins 30g
Garam masala powder 10g
Salt to taste
This is the second contestant entry we received for our "Malabar food fest 2018" organized to collect and share the traditional recipes of Malabar. If you haven't submitted your recipe yet, please visit our food fest page to win an amazon gift voucher of 2,000INR.
Moplahs are Muslims from North Kerala who trace their ancestral roots to Arabs who came Kerala centuries ago to trade in spices and silk; stayed on and married locals. The influence of Arab culture is evident in some of the malabar dishes and flavours.
This is one of the biryanis that is prepared in the Moplah community.
Preparation of Mophla Chicken Biriyani
Clean and wash the chicken and drain off the excess water.
In a large bottomed vessel, heat half of the oil and ghee, add sliced onions and fry till golden color and remove.
Fry the cashew nuts and raisins and remove.
Add the remaining onions and sauté till the onions become transparent.
Add crushed ginger, garlic, green chilies and chopped tomatoes and continue sautéing for 10 minutes.
Add chicken. Cook till the chicken is ¾ done. Adjust the seasoning
Heat the remaining oil and ghee; add cardamom, cloves and cinnamon and sauté.
Add washed, soaked rice and sauté.
Add twice the quantity of boiling water and salt, cover with a lid and cook till the water is completely absorbed.
Grease the bottom of a pot, spread a layer of cooked chicken, spread a layer of rice, sprinkle chopped coriander, fried onions, raisins and cashew nuts.
Repeat the process; finally sprinkle the remaining cashew nuts and raisins.
Cover the pot with a lid, seal the sides with flour dough. Keep on a very slow fire with live charcoal on top. Cook for 20 minutes.
Remove and serve hot with salad.
Tried this recipe or have any comments about this entry? Drop them below in the comments form.
Need more malabar recipes? Dont worry, try these.