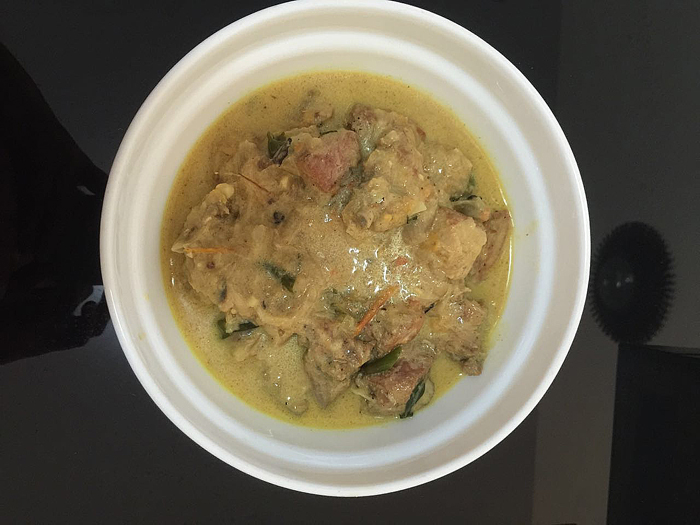 Persons served:
6 Persons
ingredients
Chicken piece : 1kg (thigh and leg pieces 15pieces)
Onion : 4 medium sized thinly sliced
Chopped ginger : 1 table spoon
Garlic : 10 cloves
Green chillie : 8nos
Cashew nuts : 50gm
KasKas / White poppy seeds : 1tsp
Coconut milk : 500 ml
Garam masala : 1/2 tsp
Chicken masala : 1/2 tsp
Coconut oil : 3tsp
Turmeric powder : 1/2 tsp
Coriander powder : 2tsp
Curry Leaves : 1 sprig
Coriander leaves : 1-2 sprig
Salt : as needed
Chicken Korma is popular side dish (curry) in Kerala which can be served with with Appam / pathiri / bread.
Chicken Korma Preparation
Soak Cashew nut and KasKas (white poppy seeds) in 1 cup of water and make it into a paste after 15 minutes.

Add coconut oil in a frying pan and a

dd sliced onion, sliced green chillies, chopped ginger, sliced garlic cloves and saute till onion becomes brownish.

Add turmeric powder, coriander powder and keep saute.
Take it into a flat plate and let it cool. Make it into a paste in a mixer.
Take a big frying pan and add the paste to it.
Pour coconut milk (add 3/4th volume).
Add chicken pieces into the pan and mix.
Add chicken masala, garam masala, 1/2 tsp salt and cook.
Mix well.
Cook for 30-40 minutes.
Add Cashew-nut and KasKas paste (#1) into the pan.
Add remaining coconut milk and curry leaves, coriander leaves.
Cover the lid and cook in medium flame.
Tips
Use big pieces of chicken.
Tell me your comments if you have tried it or if you are using a different preparation.