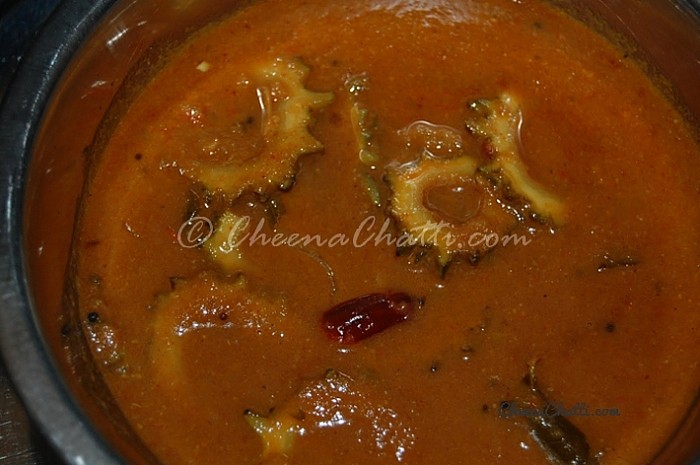 Prepration time:
30 Minutes
Persons served:
4 Persons
ingredients
Bitter gourd/ Pavakka / Kaypakka : 1 small sized (cleaned , thinly vertically sliced)
Shallots / Pearl Onion / Red Small Onion / Ulli : 1/2 cup : vertically sliced
Turmeric Powder : 1/4 tsp
Red chilly Powder : 2 tsp or to your spice level
Coriander Powder : 1 tsp
Mustard Seeds : 1/2 tsp
Dried red chillies : 3 nos
Curry Leaves : 1 sprig
Coconut Oil : 3 tbsp
Garlic : 8 cloves
Tamarind Juice (extracted) : a goose berry sized ball (soaked in the water)
Fenugreek powder : 1/4 tsp
Salt to taste
Water : 2 Glasses
Today I will give you a Pavakkai recipe for preparing a dish with bitter and sour taste. Its a typical Kerala dish which our old grandmothers used to prepare and serve with boiled rice. The new generation may not have tasted this. Mothers are also hesitant to prepare this kaypakka curry because of the bitter taste. But if you prepare it well (with no /little bitter taste), even children will love this dish.
Pavakkai recipe – Pulicurry
Add 3 tea spoon coconut oil to the frying pan (If you have a manchatti / clay pot, it will be more tastier.

Add vertically sliced (approximately 2″ length) bitter gourd pieces.

Add the sliced onion pieces, garlic cloves, salt, turmeric powder and saute well and warm the ingredients.
Pour water, saute and cover the lid and allow bitter gourd to become soft.
In another frying pan add coriander powder, red chilly powder, fenugreek powder and fry till changes color.
Make #5 into a paste in a mixer and add it to the bitter gourd mixture.
Add tamarind juice and mix well and cook it in low flame (Don't boil)
Heat oil in small frying pan/kadai, splutter mustard seeds.
Add dried red chillies, thinly sliced onions and curry leaves when the mustard starts crackling and saute.
Add #9 to the bitter gourd mixture; mix well and cover the dish. Keep it aside for 10-20 minutes.
Serve it with rice 🙂