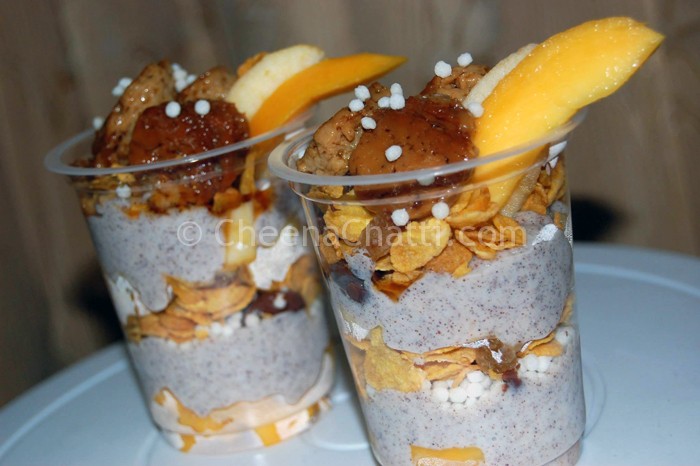 Prepration time:
15 Minutes
Persons served:
2 Persons
ingredients
Milk - 1 cup
Ragi - 1 tbsp
Water - 2 tbsp
Nutella - 1 tbsp (+2 tbsp extra)
Honey - 1 tbsp
Mango crush - 2 tbsp
Cornflakes - 2 tbsp
Nuts - 1 tbsp
Raisins - 1 tbsp
Apple - a half, cubed
Rice crisps/Honeycomb crushed - 1 tbsp
Pudding / Ice cream - any flavor
Beat the summer heat with this cool summer ragi shots recipes. An easy summer drink recipe that is prepared with ragi, nuttella, honey and mango crush. I am sure your Kids will enjoy this. Try it and send your comments.
Summer Ragi Shots preparation
Mix 1 table spoon of Nutella in 1 cup milk and bring it to boil.
In another small bowl, add 1 table spoon of Ragi (Finger millet) powder along with 2 table spoon water and prepare a paste of it.
While the milk is boiling, add the above prepared Ragi paste into it and cook it in simmer until the milk gets thicker.
Switch it off and let it cool completely.
Keep all the ingredients in refrigerator.
Take two short glasses.
Add mango crush in both the glasses, then add the Ragi porridge along with a small spoon of nutella, 1 spoon of cornflakes, a few rice crisps.
Then add apple, another spoon of ragi, nuts, raisins etc and repeat the process until the glass is full.
Top it with small pieces of pudding or ice cream and decorate with long cut apple and mango!
Adding a spoon of honey gives a glazzy effect.