Pazham pori / Banana fritters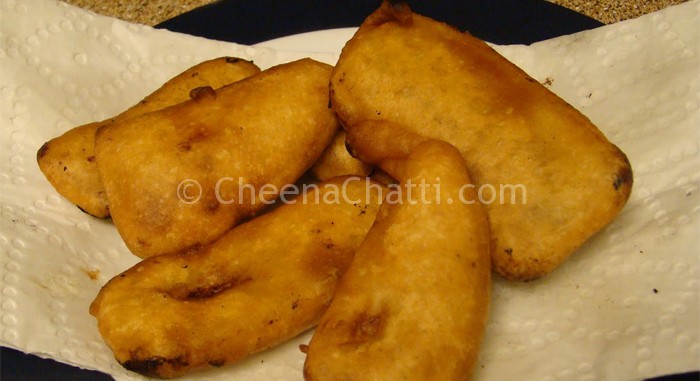 Ingredients
Ripe plantain : 4 nos
All Purpose Flour (Maida) : 1 Cup
Sugar : 2 Teaspoons
Baking Powder : 1⁄4 Teaspoon
Salt : 1 Pinch
Water : 3⁄4 Cup
Turmeric Powder : 1 Pinch
Coconut Oil : For deep frying
Pazham pori aka Ethakka appam or banana fritters is a traditional evening snack item in Kerala. Its available through out Kerala and all most all Keralites prepares it the same way. Its simply ripe banana's coated with flour and deep fried in oil.
Pazham pori Preparation
Mix the all purpose flour, sugar, baking powder, salt and water in a dish and blend it thoroughly to form a semi thick batter.

Add a pinch of turmeric powder to the batter to color a bit.
Peel the bananas and slice them length wise into half and then slice each halfway into 3 or more to get the thin slices.
Dip the slices in batter and evenly coat them.
In a deep bottom frying pan heat some oil.
When the oil becomes hot, dip the batter coated banana pieces and fry them until they become golden brown. Flip them in between.
Remove from oil and drain the excess oil with paper napkins /  kitchen towel.
Serve it hot.
Tips
This entry was written on January 14th, 2016 by
Jameela Beevi
in
Appetizers and Snacks
and tagged with
evening snacks
,
crispy pazham pori recipe
,
pazham pori with wheat flour
,
kerala banana fry
,
pazham pori with rice flour
,
how to make pazham pori
,
evening snack
,
banana pazham pori
,
nadan palaharam
. Last revised on
January 28th, 2016.
More mouth watering recipes!
Tried & Tasted by
Hi, I am Jameela Beevi from Kozhikkode Kerala, now living in Manama, Bahrain with my small family. I started cooking in 2008 after my marriage. I love to prepare and eat tasty foods. My favorites include French pastries, homemade ice creams, Indian food, and anything made with meat... :)
You can follow Jameela Beevi at :