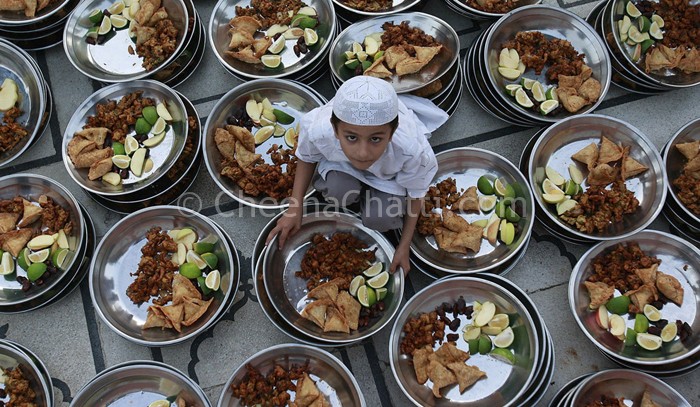 Ramadan Mubarak to all our followers. Please consider us also in your prayers. May we all have a blessed Ramadan.
Ramadan is the holiest month in the Islamic calendar. Muslims around the world abstain from eating, drinking, conducting sexual relations, and other physical needs during the daylight hours. They consider this holy month as a time to purify their souls, refocus attention on God, and practice self-sacrifice etc. You can learn more about Ramadan here.
Let me share some of our best iftar recipes for this Ramadan. Try these recipes for this Ramadan and let me know your thoughts. If you want to share your recipes, please feel free to submit it. Light and nutritious foods are ideal during Ramadan. Soups, Breads, fresh fruits and vegetables are the best way to begin and end the daily fast.
1] Rice pathiri / Nice pathiri / Ari pathiri
When hearing about the foods in Ramzan this will be the first food that comes to the mind of a Kerala Muslim. Pathiri is a traditional and authentic food item of Kerala Muslims. Its a pancake made of rice flour. Its known in a wide range of names like Ari pathiri / nice pathiri / pathil etc. Pathiri is usually served along with meat or fish curries for breakfast, dinner,iftar etc. Its an inevitable part of Malabar Muslim cuisine.
2] Mutton curry
Pathiri definitely needs a non veg curry and lets have a mutton curry together with it. Try this spicy mutton curry recipe yourself and let me know your comments. You can serve it with Appam, Idiyappam, Pathiri etc..
3] Chicken pepper fry
Need some thing dry to serve with pathiri and mutton curry? Most of you may have taken this Chicken pepper fry from outside restaurants but wondered of how to prepare them at home. Then here it is.
4] Chicken cutlets
Chicken cutlets are an easy to prepare iftar snack food which I am sure your Kids and other relatives will love. It is prepared from minced boneless chicken and mashed potatoes. This recipe will give you an awesome chicken cutlet.
5] Unnakkaya
Unnakaya is a sweet Malabar (Kerala) Muslim recipe. Its popular in other parts of Kerala also during the Ramadan fasting time. Unnakaya is a good snack item which can fill the snack box and can be served as an evening snack for your kids.
6] Erachi pathiri / Meat pathiri
Erachi pathiri (Fried Rotis Stuffed With Chicken Masala) is a traditional Muslim food item which is very delicious, rich meat-filled pastry, which is a very popular Ramadan dish. It is a meal by itself. You can use Mutton, Beef or Chicken for the spicy meat filling.
7] Minted lemon Juice
We need a juice recipe also for breaking the fast. Here is a recipe of refreshing mint with lime. This mint lemonade is also good for your digestive system.
8] Arabian Majboos
Chicken Majboos is an Arabian rice dish similar to Kerala Biriyani. Some people also call it as Arabic chicken Biriyani. This is a popular dish in northern Kerala.
9] Arabian Kebab
Arabian mutton kebab recipe from the native Arabs.
10] Sukhiyan
Lets have a veg item too in our collection. Sukhiyan is a deep fried traditional Kerala tea time snack made from Green gram / Mung bean, coconut  and jaggery filling. This is a highly nutritious food because the mung bean is a rich source of low-fat protein and fiber.
I am sure that I missed a lot of recipes. Please share them as comments below or submit these recipes to the CheenaChatti's Ramadan collection.