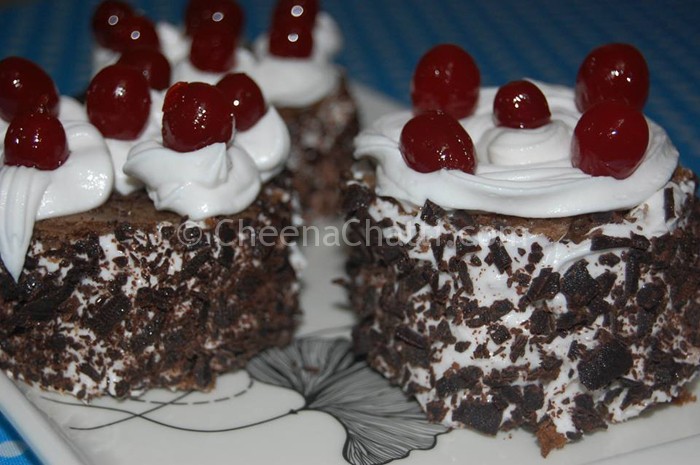 Persons served:
6 Persons
ingredients
Plain flour - 1 1/2 cup
Cocoa powder - 3 Table spoon
Sugar - 1 cup (powdered)
Baking powder - 1 Tea spoon
Baking soda - 1 pinch
Salt - a pinch
Eggs - 3
Oil - 3/4 cup
Fresh cream - 1/4 to 1/2 cup
Milk - 1/4 cup (Optional)
For sugar syrup
Water - 1/4 cup
Sugar - 1/4 cup
Brandy - 3 Table spoon (Optional)
For decoration
Whip cream powder - 150 grams
Cold water - 150 ml
Grated chocolate - 1/2 cup
Cherries - a few
Gem of all desserts! That's Black forest pastry and cake. Though originated in Deutschland (Germany) this spectacular dessert has conquered the world with its unique taste. Its known in multiple names like Black Forest cake (in US), Black Forest gâteau (UK) and Schwarzwälder Kirschtorte (in German).
A typical Black Forest cake consists of multiple layers of chocolate cakes, with whipped cream and cherries embedded between each layer. These cakes are then decorated with additional whipped cream, chocolate shavings and maraschino cherries..
Try this preparation of black forest pastry and send me your comments and photos (its worth the effort).
Black forest pastry preparation
Sieve flour, cocoa, baking powder, baking soda and salt together.
In a large bowl beat oil and powdered sugar until pale. Add 1 egg at a time and beat well. Add fresh cream and beat. Add in flour cocoa mixture and fold thoroughly. If the mixture is thick, add milk and fold well.
In a prepared baking tin, add in the batter and bake in 180 d for 40 minutes.
Let the cake cool completely.
In a small bowl, mix sugar, water and brandy  and stir well until the sugar dissolves. (If not using brandy, can be replaced with some essence or any flavor of your choice).
In a steel bowl, mix the whip cream powder and water and whip for 3-4 minutes until its thick. Keep refrigerated.
Cut off the crown of the cake. Then Slice horizontally in to two. Drizzle the prepared sugar syrup on both the slices. Using a round shaped mold, cut off the pieces of cake evenly. (I used a sharp edged glass to get a small round shaped cake pieces)
Take one round shaped cake piece and apply whip cream and press another round piece on top and again apply the cream on the outer portion of the cake and sprinkle grated chocolate on the cream. Prepare all the cake pieces like this.
Then pipe some cream on top according to your design and decorate with cherries.
Serve chilled.