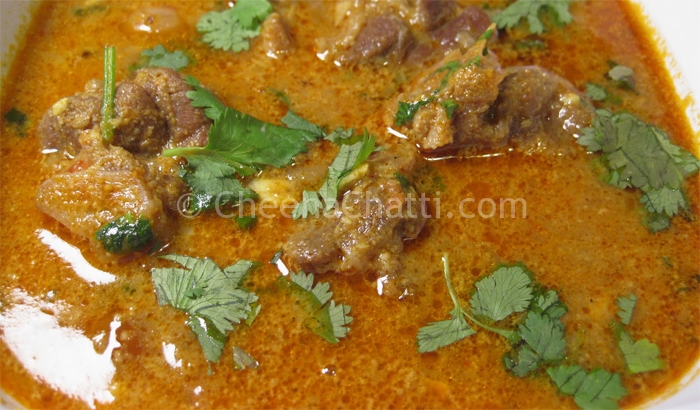 Prepration time:
60 Minutes
Persons served:
4 Persons
ingredients
Mutton pieces : 1 Kg
Cooking oil : 2 tbl spoon
Onion (sliced into thin pieces) : 2 medium sized
Coriander powder : 2 tbl spoon
Chilly powder : 11/2 tsp
Turmeric powder : 1/4 tsp
Ginger : 1 inch piece
Garlic : 6cloves
Cinnamon / Karuvapatta :1 inch piece
Clove / Gramboo : 3 nos
KasKas / white poppy seeds : 1 tsp
Cumin seeds / Jeerakam : 1/2tsp
Grinded coconut : 2 cps
Gambooge / Kudampuli / Vadakkan puli : 2 nos
Coriander leaves / Malliyila : 1 twig
My grand mother prepares mutton curry in a different method using gambooge / Kudampuli / Vadakkan puli. During my childhood days on every visit there, I wondered how she prepares it differently. Recently only I learned that, its the gambooge tha'ts giving the different taste to her preparation. Try this spicy mutton curry recipe yourself and let me know your comments. You can serve it with Appam, Idiyappam, Pathiri etc..
Preparation of mutton curry
Cook mutton with salt.
Blend together Corriander powder, Chilly powder, Turmeric powder, Ginger, garlic, cloves, cinnamon, white poppy seeds,  cumin seeds and the coconut.
In a pan, pour some oil and add the onions. Saute it till onions become brownish.
Add the mix (#2) in to the pan and saute it for another 10 minutes in low flame.
Add the mutton pieces and pour some water. Cook it for some time.
Add the gambooge.
Move the curry into a dish and decorate with the Coriander leaves over it.
Try our other mutton recipes too.