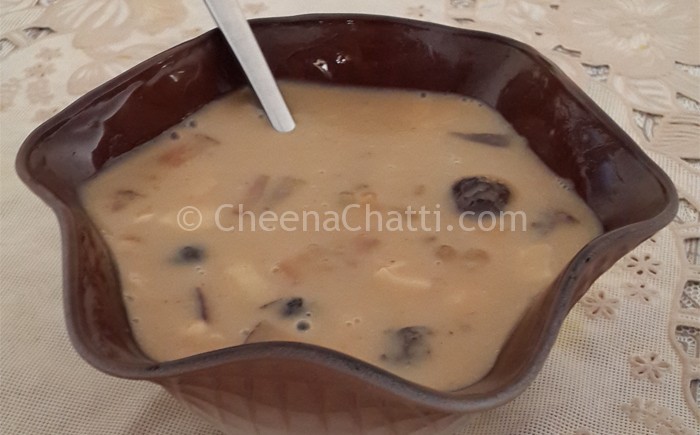 Prepration time:
15 Minutes
Persons served:
5 Persons
ingredients
Kadala parippu / Split chickpea : 100 gms
Jaggery : 50 gms (or as per your sweet requirement)
Cardamom pods : 5 nos
Nutmeg powder : a pinch
Coconut pieces : a small bowl (1/4 coconut)
Kismis (Raisins) & Cashew nut - for seasoning
Chowari (Sago) : One handful
Salt : a pinch
Payasam / Pradhaman / Kheer? Don't ask me how much I love them. 🙂 Very often I make them at home. I have to admit that, among the different kheer preparations I have some special love to Parippu pradhaman / Kadala parippu payasam. But I don't know why its so, it was always like so since my childhood.
Here I'm sharing my recipe for parippu payasam preparation. Have a look friends..
Kadala parippu payasam making
Wash and drain the kadala parippu (Split Chana dal / Bengal gram / Split Chick pea) well.
In a fry pan / cheenachatti, boil two tablespoons of ghee and add the Kismis (raisins),  Cashew nuts and coconut pieces. Slightly fry them and keep aside.
Pressure cook the dal with a pinch of salt (use only a pinch of salt for taste) and the dried ginger (chukku) for upto 2 whistles.
Boil the jaggery with enough water. When it starts boiling, remove from the stove and drain the jaggery syrup to remove any impurities.
Open the pressure cooker, and add the cardamoms pods (crushed), nutmeg powder and jaggery syrup to the cooker and let it boil for 20 minutes. Keep stirring, so that it should not stick to the bottom of the cooker.
After 10 minutes add the sago to the cooker and mix.
Add the first / thick coconut milk and keep stirring continously, without boiling the coconut milk.
Mix the fried cashews, raisins and conconut pieces with the parippu payasam.
When it reaches semi consistency remove from the stove.
Serve hot or chilled.
Notes
Adjust jaggery as per your sweet level.
In step 2, instead of ghee you can use coconut oil also for frying the raisins, cashew nuts and coconut pieces.
While adding dal to jaggery, make sure the flame is in simmer and you are constantly stirring it.
If you are worried of overcooking the dal, you can first dry roast it in a kadai / cheenachatti for few minutes without browning it and then pressure cook till it become soft [5-7 whistles].
Similarly, you can cook the sago seperately and add to the mixture along with other ingredients in step 6.