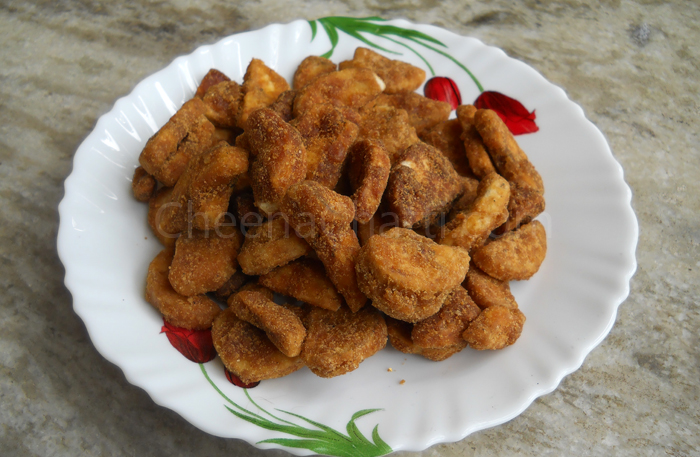 Prepration time:
60 Minutes
Persons served:
5 Persons
ingredients
Raw Plantain : 3 nos
Jaggery syrup : 3/4 tsp
Powdered sugar : 2 tbsp
Ground Dried Ginger powder : 1/2 tsp
Rice flour :2 tsp
Cardamom : 4 nos
Cumin seeds : 1/2 tsp
Oil for frying
Vishu is coming and for the sadhya sarkara varatty or banana chips are a must. These days because of the unawareness of how to prepare it, people just buy it from the shop. This time have some difference and prepare it at home. This way you will get good quality sharkara varatty for sadhya. Here is the method of preparation of spicy kerala style sarkkara varatti at home.
Sarkara Varatti directions
Peel off the plantain skin and cut each of them into half lengthwise.
Cut each into 1/2 cm thick pieces again and keep it aside.
In a frying pan pour the oil and heat it at medium-high flame.
Add the Plantain pieces when the oil become hot and fry it on a medium flame stirring occasionally until the banana pieces become golden yellow / crisp. (at least 30 minutes to fry a batch).
You can feel the crispness of the chips when you stir them around.
Take the chips out of the oil with a slotted spoon and drain on paper towel and

let it cool

down (important).
Melt the jaggery by adding 2 tbsp of water to it and if there are impurities strain the jaggery and use it.
Add the cumin powder, 2 tbsp powdered sugar and cardamom to the jaggery syrup and bring to a boil stirring continuously.
When the syrup is in the right consistency lower the heat and add the fried banana pieces.
Mix well and stir continuously in order to prevent the chips from sticking to each other.
Remove from the stove and add the ginger powder.
Add 2 tbsp powdered sugar, mix well.
Finally just sprinkle the rice flour.
The delicious sarkkara varatti is ready to have. Keep them in an airtight container.
Notes
It is very important for the jaggery syrup to be of the right consistency else the chips will be sticky. The jaggery should be on 1 string consistency i.e if you pour it down from a high held spoon,  it should not pour down like water rather it should drop down like honey in a thin viscous form.
For making 1kg of sharkkara varatty, you need approximately 600gm jaggery.