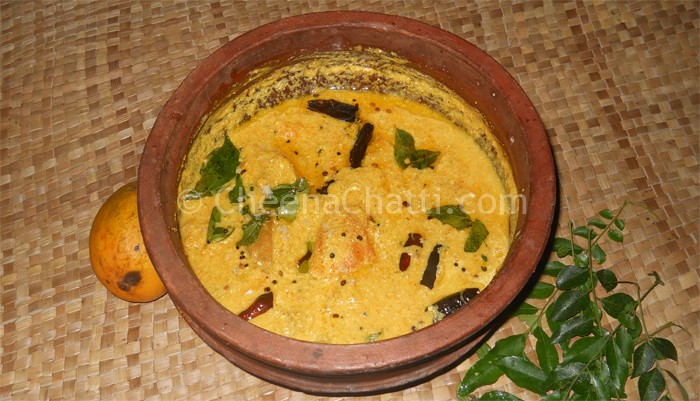 Prepration time:
45 Minutes
Persons served:
4 Persons
ingredients
Mangoes (Nadan, with little sour & medium sized) : 2 nos
Sliced green chillies : 3 nos
Chilly powder : 1 tsp
Blended curd : 8 cups
Grinded coconut : 2 cups
Cumin seeds : 2 pinch
Coconut oil : 4 tble spoon
Mustard : 2 tsp
Fenugreek :1 pinch
Red chilly : 6 nos
Curry leaves : as needed
Turmeric Pwdr - 1/2 tsp
Water : as needed
Salt : as needed
One of the traditional curry dishes in Kerala is mambazha kalan / mambazha pulissery. Its an easy to prepare side dish with minimum requirements which our grand mothers prepare in olden days. In those days mangoes very easily available in the backyard of every houses in Kerala. The dish is very sweet one. Its better if you can use nadan mangoes for this preparation as they are more sweet and fluffy. This is also a common dish in Kerala sadhya / grand feast.
Directions for Mambazha pulissery
Clean the mangoes, peel the skin and slice it into pieces.
Mix the mango pieces, sliced green chillies, turmeric powder, water and salt and cook it in a vessel.
Grind the coconut and Cumin seeds into a paste.
Add coconut oil to a frying pan and when it becomes hot add Mustard, fenugreek, red chillies and curry leaves.
When the mustard seeds starts crackling, add the paste (#3) and mix well.
Add the cooked mangoes, chilly powder and the curd and keep on stirring. Make sure that it never boils.
Switch off the flame and keep stirring the mix for another 1-2 minutes. The mix needs to be stirred for some time to make sure it does not separate out.
Allow it to cool and serve.