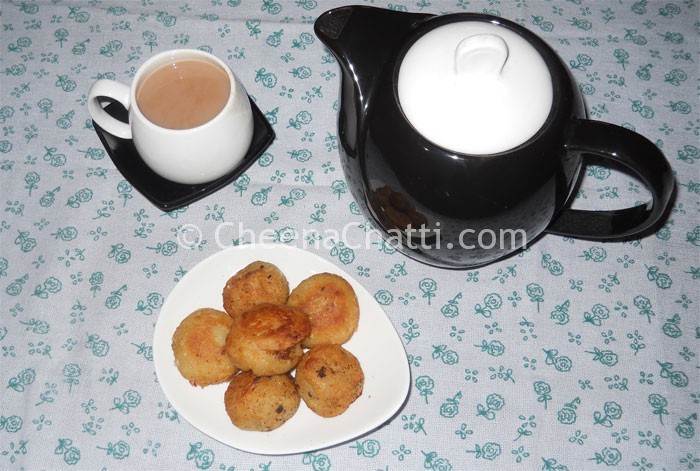 Prepration time:
45 Minutes
Persons served:
4 Persons
ingredients
Aloo (Potatoes - boiled & mashed) : 3 Large
Beetroots (mashed) : 1 medium sized
Carrots (Chopped) : 1 number
Mustard seed : 1 tsp
Onion (Sliced small) : 1 large sized
Green Chilies (chopped) : 5 nos
Coriander leaves (finely chopped) : 1tbsp
Curry leaves (finely chopped) : 1tbsp
Red chili powder : 1tsp
Garam Masala powder : 1/4th tsp
Ginger garlic paste : 1 tbsp
Turmeric powder : 1/4th tsp
All purpose flour (Maida) : 2 cups
Salt to taste
Oil for frying
Aloo bonda (Potato / Urulakizhangu masala bondas) are very common and yummy evening snack in India. This snack can be easily prepared at home by following these step wise instructions. Don't forget to share your outcome or different variants of this recipe you tried with us.
Preparation of Aloo bonda / Urulakizhangu Masala Bonda
In a Kadai / Pan, heat the oil.

When it become hot, add 

 sliced onion, chopped green chillies, ginger garlic paste, chopped curry leaves and coriander leaves, salt and fry till it changes its color to brown.
Keep it sauteing.
Add all the chopped vegetables (Chopped carrots, mashed beetroots and potatoes) and turmeric powder. Mix it well.
Cook it for 10 minutes.
Add garam masala and chilly powder and mix this well.
Cook for another 2-3 minutes and turn of the flame. Transfer it to a large bowl and when it cools mix the whole masala well with your hand.
In a vessel, heat 1 cup of water with salt and when it boils add 1tsp oil and 2 cups of all purpose flour and mix it in low flame.
Allow it to cool and make it into a dough similar to that of chappathi.
Roll out small portions of the dough into lime sized balls.
Using a pathiri press / chappathi press / chapathi roller flatten each balls into thin breads. You can apply some oil to both sides of the press to prevent sticking.
Spread the masala in the top center of each maida bread and fold from the edges to cover it.
In another pan, heat some oil (for frying).
When the oil becomes hot dip the maida coated masala balls into the hot oil carefully and fry it till it becomes golden brown.
Drain them into a kitchen tissue.
Serve aloo bondas / Urulakizhangu Masala bondas hot with Ketchup or chutney.