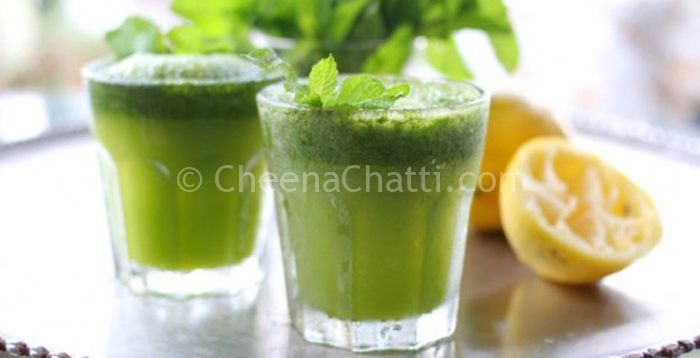 Prepration time:
5 Minutes
Persons served:
2 Persons
ingredients
Lemon Juice : 1 ½ tbsp / 1 big lemon
Crushed ginger : ½ tsp
Mint leaves, chopped : ½ tsp
Sugar : 2 tbsp
Water : 2 glasses
Ice cubes : ½ cup
It's summer time and the temperature in Kerala is higher than the usual limits. Keralites finds it very hard to thrive in this temperature. Hope we will get the monsoon soon.
Here is a recipe of refreshing mint lemonade drink to keep you cool in this hot climate 🙂 . The mint ingredient is also good for your digestive system. It helps in easy digestion. You can take this juice after having a heavy food / an outing in the afternoon etc.
This is an easy to prepare juice drink.
Preparation of lemon juice with mint (mint lemonade)
Wash and clean the mint leaves.

Mix all our ingredients together and grind them all in a mixer (juicer) or food processor.
Sieve it to a bowl.
Taste the sweetness and add more sugar if needed.
Serve it immediately poured over ice in tall glasses.
Garnish with lemon and lime slices.
Though the color looks deep green, dont get scared :). Its as refreshing as it looks. Don't forget to serve it immediately. Because the more you keep this, the more the color fades, sometimes turning a more muddy brown that does not look so appetizing.
In some parts of Kerala a new type of lemonade drink – Kulukki Sarbath is getting very popular. We also have the recipe for Kulukki sarbath. Don't forget to try both the lemonades and share your preparation details with me.
Check these lemon recipes also.