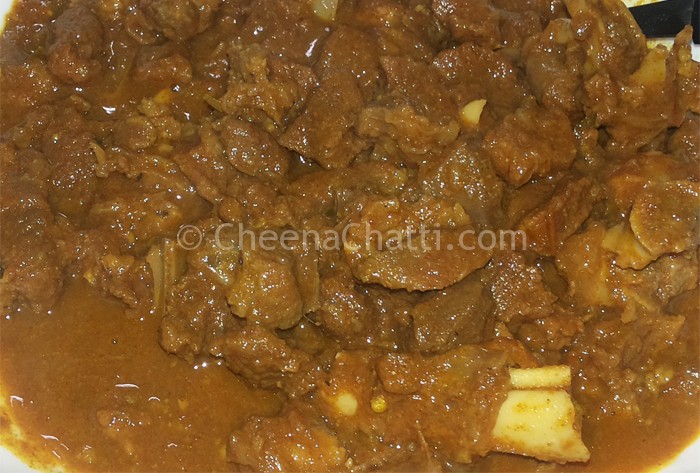 Prepration time:
45 Minutes
Persons served:
6 Persons
ingredients
Mutton: 1 Kg
Shallot/Small Onion: 25 Nos
Big Onion: 2 nos
Tomato: 2 Medium sized (cut into small pieces)
Green Chilly: 2 Big (sliced lengthwise)
Ginger: 1" piece (blended)
Garlic: 3-4 full cloves (blended)
Turmeric Powder: 1/2 tsp
Coriander Powder: 2 tsp
Chilly Powder: 4 tsp
Meat Masala: 2 tsp
Pepper: 2 Table spoon
Salt as required
Oil as required
Curry leaves : 2 sprigs
Its more than 2 months, this post was in draft format. Unfortunately I completely forgot to finish this post. Today I received a request from a subscriber of our's for a mutton curry, and then only I remembered about it.
Kerala style mutton curry preparation
Wash the mutton pieces well and cut it into small pieces. Wash again under running water.
Drain the pieces well.
Marinate the mutton pieces with chilli powder, turmeric powder, coriander powder, meat masala, salt and keep it aside for 30 minutes.
Heat a pan / cheenachatti and add oil.
Add onions (large & small) and saute it till it becomes golden brown.
When onions turn golden brown, add ginger, green chillies, garlic and saute it well.
Add tomato pieces and curry leaves and stir well to get it mixed well.
Lower the flame and saute it.
Add the marinated mutton pieces to pan (Add 1/2 a cup of water only if you need to be as a curry).
Mix well and keep it in low flame for 5-8 minutes stirring it in between.
Transfer it to a pressure cooker and cook up to 3 whistles.
You can apply some seasoning with curry leaves and oil if you wish.
Have you seen other mutton recipes?