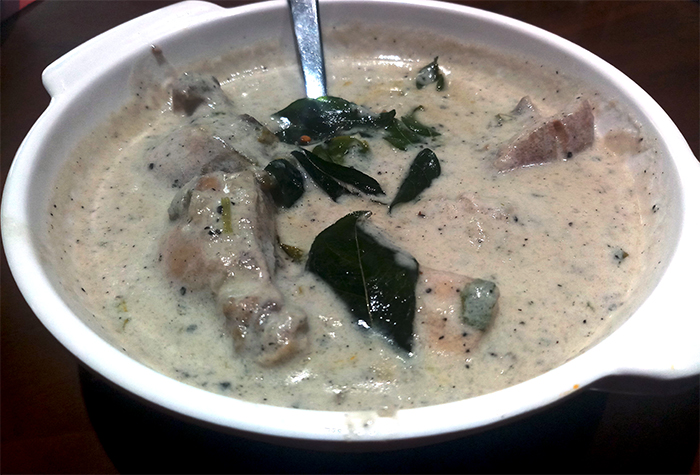 Prepration time:
45 Minutes
Persons served:
4 Persons
ingredients
Boneless Chicken (cut into medium size pieces) : 500 gms
Potato : 1 medium sized, sliced into small cubes
Carrot : 1 small-medium sized, sliced into small cubes
Onion : 2 medium sized, thinly sliced
Shallots / small onion : 6 numbers, thinly sliced
Cinnamon : 3 pieces, 1" each
Cloves : 6 numbers
Cardamom : 3 numbers
Black Peppercorns : ½ tsp OR Black Pepper Powder : 1 tsp or to taste (optional)
Cashew : 8-10 numbers
Raisins : 8-10 numbers (optional)
Garam masala : ½ tsp
Coriander powder : 1 tsp
Ginger : 1" piece, thinly sliced
Garlic : 1 tbsp / 5 cloves, thinly sliced
Green Chillies : 5 numbers, slit lengthwise
Thick Coconut Milk (First extract) : 1 cup
Thin Coconut Milk (Second & Third extract) : 2 cups
Lemon juice : ½ tbsp
Curry leaves : 2 sprig
Coconut Oil : 4 tbsp
Bay Leaves : 3
Star Anise : 2
Salt to taste
It was my Husband's friend, who introduced chicken stew to my house. Every sunday morning it was a routine for my husband and his friend to have appam and chicken stew from a hotel nearby to their hospital.
When my husband finished his training and was back at home, he was missing his chicken stews very much. We thought of giving it an attempt ourselves and we were in search for the traditional recipes. We found so many recipes over the internet for chicken stew, but my husband was never happy with any of those preparations.
Recently we got a recipe from his friend's mother itself and it was an awesome one. We are sharing that preparation below.
Kerala style chicken stew preparation
Clean the chicken pieces well, drain it and keep it aside.
Prepare medium sized cubes of potatoes and carrots.
Finely chop the ginger, garlic, onion, shallots and green chillies.
Crush cardamom and pepper corns (if not using pepper powder)
In a large cooking pan, heat 3 tablespoons of coconut oil, add the spices (cloves, cinnamon star anise, bay leaves and cardamom) and stir for a few seconds to one minute.
Reduce the flame and add garlic, ginger and green chilly.
Saute it for few seconds and add the finely chopped onions (from step 3) – Keep sauteing and add a little salt.
Lower the heat, when the onions turn golden brown and add ½ tsp garam masala and 1 tsp coriander powder. Stir for few seconds.
Add chicken pieces, carrot and potato cubes, 1 sprig of curry leaves and ½ tbsp lemon juice – Keep stirring and lower the heat.
Pour two cups of the thin coconut milk and mix well. Cook it covered until done and keep stirring in between.
Add peppercorns / pepper powder when the stew is cooked and mix it well.
Add the thick coconut milk and mash a few potatoes with a ladle to make the gravy a little thicker in low heat. Keep stirring and remove from stove, when it starts boil.
In another cooking pan, heat 1 tsp of coconut oil and fry the cashews, raisins and add it to the stew. Fry the shallots and remaining curry leaves in the same pan, until shallots turn golden brown and put it as seasoning over the stew.
Hope you will drop your comments and feedbacks after trying this recipe.