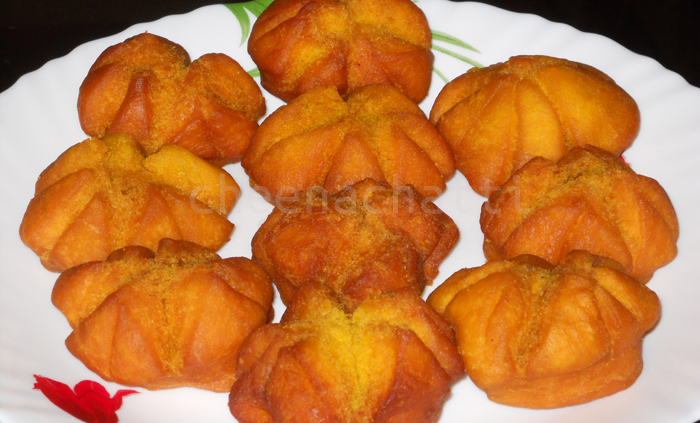 Prepration time:
45 Minutes
Persons served:
8 Persons
ingredients
All purpose flour (Maida) : 2 cups
Semolina / Rava : 1/4 cup
Beaten eggs : 2 nos
Cardamom powder : 2 pinch
Sugar : 1/4 cup
Salt : a pinch
Milk : ½ cup
Baking soda: 1/4th tsp
Oil : 3 cups for deep frying
Water : as required
Vettu cake aka Fried Sweetened Dough is a popular tea stall snack, available only in rural Kerala. Its hard to find this snack in the urban towns. But with this recipe you can prepare vettu cake in your kitchen easily.
Preparation of  Vettu cake
In a bowl beat the eggs along with sugar until it dissolves and keep it aside.

Sieve the flour, semolina and baking soda well into a pan, add beaten egg – sugar mix, milk and warm under very low flame.
Mix well using a spoon and turn off the flame and allow it to cool.
Add salt, cardamom powder to the pan and make the mixture to a smooth dough (consistency like that of chappathi).
Keep the dough covered for around 45 minutes.
Shape the dough into a log shape and then cut them into 2×2.5 inch square pieces.
Make a "X" (cross) mark in the center using a sharp knife.
Boil oil in a pan and turn the flame to minimum.
Fry each piece in minimum heat for about 4-5 minutes flipping them in between to ensure uniform cooking.
Once cooked transfer the vettu cakes to a plate with tissue paper to remove excess oil.
Your vettu cake is ready and serve it with tea.
Tips
Lower the flame to minimum otherwise inner dough will not be cooked properly.

Dough should be made by adding milk(avoid using water)
Dough should not be too soft.