Pappada Vada / Pappad Fritters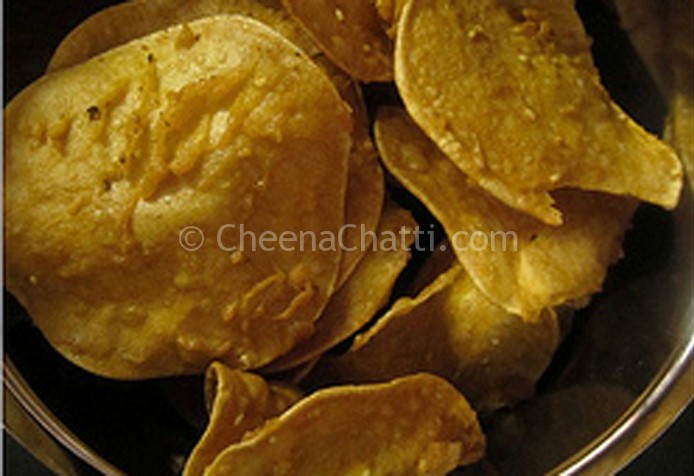 Ingredients
Pappadam / Plain Pappads : 15 nos
Raw Rice : 1/2 cup
Dry Red Chillies : 6 nos or Red Chilli Powder : 1tsp
Turmeric Powder : a pinch
Black Sesame Seeds : 1 tsp
Cumin Seeds : 1 tsp
Asafoetida powder : a pinch
Salt : to taste
Water : 3/4 cup or as needed
Coconut Oil : for deep frying
Pappada vada is a traditional Kerala evening snack food. You will find this snack item in the local hotels or tea stalls through out Kerala. Its a tasty and easy to prepare one. Pappada vadas are prepared by deep frying the pappads (Kerala papadam) dipped in the rice batter.
I remember those good old days, my grandfather used to bought this to home when he returns from the shop. I really miss those days. Love you grand pa..
Pappada vada preparation
Wash and clean the rice and soak it in water for 15-20 minutes.
Drain out water and grind the soaked rice along with dry red chillies (or chilly powder) and turmeric powder into a smooth paste in a mixer adding enough water.
Transfer it to a medium sized bowl and add salt, black sesame seeds, cumin seeds, a pinch of asafoetida and mix everything well together.
In a deep bottomed frying pan, heat the coconut oil and reduce the heat to medium.
Dip each pappads in rice batter (make sure pappads are well coated with the batter) one by one at a time and deep fry them till golden color on both the sides (1-3 pappads at a time depending upon the size of your pan).
Drain on Kitchen tissues and serve hot with black tea or store in air tight containers.
Tips
This entry was written on November 15th, 2015 by
Cini P Moideen
in
Bakery
and tagged with
kerala snacks
,
pappada vada ingredients
,
easy pappada vada
,
nadan snacks
,
taste pappada vada
,
pappada vada recipe
,
calories pappada vada
,
vada
,
evening snack
. Last revised on
November 23rd, 2015.
More mouth watering recipes!