Panchmel Dal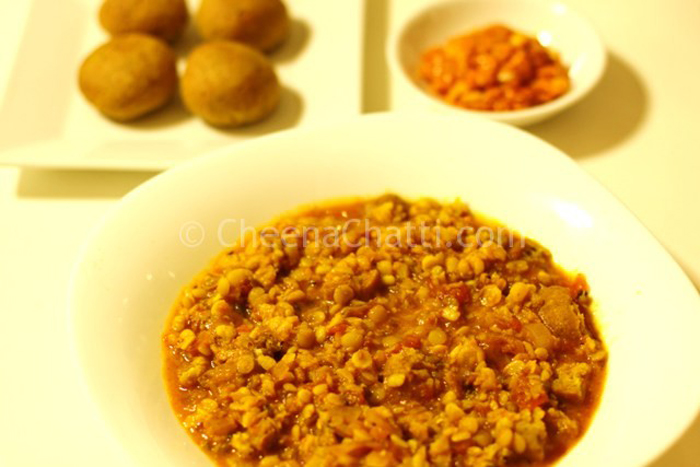 Ingredients
1/4 cup Tuver dal
1/4 cup Chana dal
1/4 cup Mung dal (yellow)
1/4 cup Mung dal with skin
1 tsp Urad dal
1/2 cup Chopped Onion
1/2 cup Chopped Tomato
1 tbsp Ginger-Garlic paste
1 tsp Kasoori Methi
1/4 tsp Turmeric Powder
1 tsp Coriander powder
1/2 tsp Red chilly powder
1/2 tsp Garam masala
1 tbsp lemon juice
Salt per taste
1 tbsp Ghee
1/2 tsp Cumin Seeds
A pinch of Hing
One of the staple foods in Rajasthan is "Panchmel Dal", a lentil preparation that can be served with thick bhakhri, a plate of steamed rice or as a part of very famous Dal-Baati 🙂
Preparation of Panchmel dal
Wash all dals together in a big bowl and soak them in plenty of water for around 1-2 hours.
Add a little salt in water and pressure-cook them for 4 whistles.
Heat ghee in a deep pan and add cumin seeds along with hing.
Once it stops crackling, add chopped onions and ginger-garlic paste. Saute it till onions are translucent.
Add chopped tomato and all the spices and mix them well. Cook it for around 2-3 minutes.
Without draining excess water from pressure-cooker, add all dals in pan and mix well.
At this point of time, add some hot water if required. Cover it with a lid and cook it for 5-6 minutes more.
Turn off the heat and add lemon juice in it.
Serve hot  🙂
This goes very well with Baati, Khooba Roti or Steamed Rice.
Need more dal recipes? Dont worry, try these.
This entry was written on October 7th, 2016 by
SJ
in
Gravies and Curries
and tagged with
dal recipes
,
panchmel dal recipe
,
make panchmel dal
,
rajasthani
,
panchmel dal recipe tarla dalal
,
lentils
,
vegetarian
,
dal
,
panchmel dal show me the curry
. Last revised on
October 16th, 2016.
More mouth watering recipes!
Tried & Tasted by
Hi... I'm SJ! Not a professional chef or anything even related to that... It's just my passion to learn more n more in the kitchen!!! Love adapting recipes, mixing 'SJ Element' into it and taking it to a new level I'm a big-time food lover, but a break in professional career made me dig into culinary world much more than before! And I enjoyed this process of self-migration from being "Food Lover" to "Food Blogger"
You can follow SJ at :