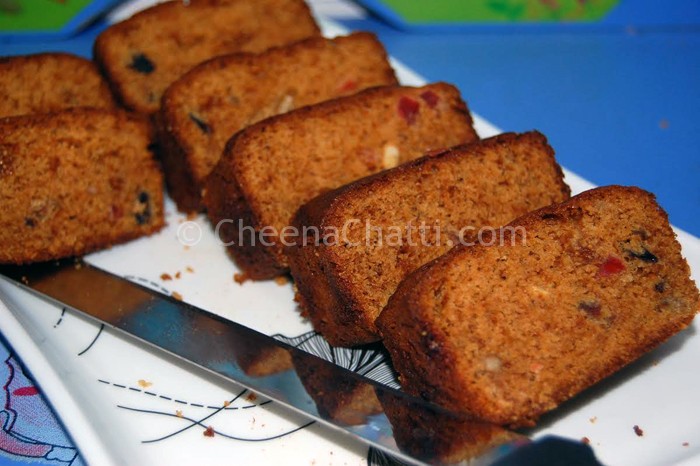 Persons served:
10 Persons
ingredients
For Soaking
Mixed fruits i.e.
Dates
Figs
Cherries
Ginger peel
Orange peel
Tutty fruity
Black raisins
Yellow raisins
Almonds
Walnuts
Cashew nuts etc altogether – 3 cups
Rum/Brandy – 1.5 cups
For Caramel
Sugar – ½ cup
Water – 1 tbsp
Warm water – 1/2 cup + 2 tbsp
For Cake
Plain flour (maida) – 2 cups
Baking powder – 1¼ tsp
Baking soda – ½ tsp
Sugar – 1 cup+ 2 tbsp
Unsalted Butter – 200 gms @ room temperature
Eggs – 4 @ room temperature
Vanilla extract – 1 tsp
Apricot Jam – 1 Tbsp
For Spice Powder
Cloves – 2
Cardamom – 2
Cinnamon – a small piece
Nutmeg – a small piece
Plum cake preparation
Soaking of Fruits:
Wash and Soak all the dry fruits properly and leave in sunlight a whole day to dry up.
Chop washed and dried fruits and nuts and fill in a glass jar.
Add brandy/rum in this and keep for 3 weeks. Try to soak it for a minimum of 1 week, at least.
Shake the jar of soaked fruits once in a while.
Caramel Preparation:
Combine ½ cup sugar and 1 tbsp water in a sauce pan.
Heat it & let the sugar melt. When the color of the melted sugar becomes dark brown, remove the pan from fire and add 1/2 cup warm water to this. You need to be very careful at this stage since the water tends to splash and can cause burns.
Bring it back to the heat and boil for 3-4 minutes.
Remove from fire and let it cool completely.
Spice Powder:
Grind all the spices with a pinch of sugar, to a fine powder & keep aside.
Cake Preparation:
Preheat the oven at 180 C for 10-15 mins, before baking.
Drain the soaked fruits and keep aside. Retain 4 tbsp from the drained liquor.
Toss the drained fruits in 2 or 3 table spoon of maida (All purpose flour). (This will prevent the fruits from sinking to the bottom of the cake).
Sift the plain flour with baking powder and baking soda.
Powder the sugar and keep aside.
Separate the yolks and white of the eggs.
Beat the egg yolks and add the softened butter to it. Beat it till it forms a smooth paste.
Add powdered sugar to this, gradually. Beat after each addition.
When it becomes smooth add vanilla essence and cooled caramel, spice powder and jam. Beat again.
Add the sifted flour in 2 batches.
Add the drained liquor. Beat after each addition.
Now clean the blades of the blender and wipe neatly. (Not even a drop of water is allowed while beating egg white).
Beat egg whites till soft peaks form.
Fold the fluffy egg white into the batter very gently. Make it two three parts and fold accordingly.
Then fold in the soaked and coated fruits. (Do this part very carefully, do not mix for too long, Just two or three folding is enough for the dry fruits just to disappear in the batter).
Grease the baking dish and line with baking paper.
Pour the batter into the prepared tins.
Bake in the pre heated oven for 40-45 minutes or until the skewer inserted comes out clean. The baking time can vary depending on the oven and also the size of the tin used.
Alcohol free version of plum cakes:
Soak 3 cups of fruits in 1.5 cups of fresh orange juice. Leave it overnight at room temp. The rest of the recipe is same.
Using this recipe, I have got 1 Kg and 350 grams of plum cake. I adapted this recipe from mariasmenu. Thanks maria for such a lovely and yummy recipe.