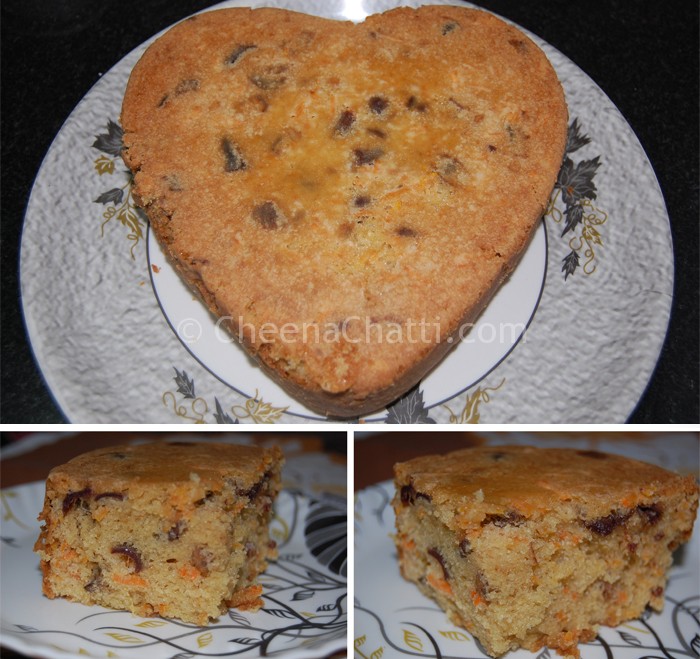 Prepration time:
1 Hour 30 Minutes
Persons served:
10 Persons
ingredients
Wheat flour : 2 cups
Plain flour : 2 table spoon
Dates : 250 gm (De-seeded and chopped finely)
Carrots : 2 big sized (Cleaned and grated)
Eggs : 3
Oil / Vanaspathi : ¾ cup
Fresh cream : 200 ml
Sugar : 2 cups (powdered)
Baking powder : 1½ teaspoon
Hi friends, after a short break I am back again with an easy and quick healthy wheat cake recipe. With Dates and Carrots as ingredients, I believe this will be an absolutely delicious cake recipe.
Wheat cake preparation
Sieve wheat flour and baking powder thrice and keep it aside.
In a large bowl, add in powdered sugar and oil.  Beat it until creamy.
Add each eggs one by one and beat.
Add half of fresh cream and mix thoroughly.
Add the wheat flour bit by bit and mix without lumps.
Check the consistency of the batter and add rest of the fresh cream.
Keep aside for a while.
In a large plate mix chopped dates and plain flour well until the dates get a nice coating.
Sieve it once to avoid the excess flour and mix in the batter along with grated carrot.
Preheat the oven in 180 degrees.
Grease a large baking tin, and transfer the batter to it.
Bake for 40 minutes or until the cake passes a skewer test.
After baking, let it cool completely.
Invert the cake to another board.
Cut and serve a healthy cake to your family 🙂
Hope you all will try it and leave your comments below.