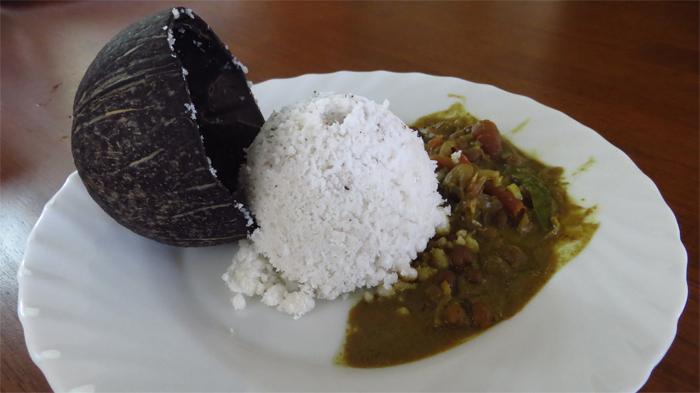 Prepration time:
30 Minutes
Persons served:
3 Persons
ingredients
Raw Rice(Pachari) - 1/2 kg
or Rice flour : 2cups
Grated Coconut : 3/4 to 1 cup
Water : 1/2 – 3/4 cup
Salt : as needed
Chiratta Puttu is a variant of the Kerala Puttu. Puttu (Steamed Rice Cake) is a traditional and important recipe in the Kerala breakfast menu.
Directions
Soak the rice for about 2 hours (If you are having rice flour / puttu podi, skip directly to step 4).
Drain the water from the rice completely and dry it in a cool place and grind it to coarse powder.
In a pan heat the rice powder for 3-4 minutes but do not roast and let it cool.
In a large bowl, take the powder and sprinkle water on the flour (Be careful in mixing water. The perfect combination of water and rice powder gives the good result).
Add salt to taste and mix it thoroughly with hand. (It should be a bread crumb consistency and not form a dough.)
Clean a half coconut shell (cup shape) and make a hole in its eye's portion (You can make it easier if you immerse the coconut shell in water for a day).
Boil the water in traditional Puttu Maker. Fill a quarter of the coconut shell with coconut scrapings and the balance portion with the flour. Fix the filled coconut shell on the pot's mouth, when it starts steaming. Spread a wet cloth over the coconut shell to prevent steam escaping through the sides. These days you can buy steel chiratta puttu maker from the market.
Steam it for 10 minutes.
When cooked, remove coconut shell from Puttu Pot and carefully shake the steamed cake on to a plate.
Serve hot with Ground nut / Chickpeas (Kadala Curry), Green gram curry (Cheru payar), Cowpea ( Vanpayar ) curry or Mutta ( Egg ) Curry.
Tips
Fill the rice and coconut as loose layers.
Serve hot/warm with banana or curry of your choice or with pappadam.
If you add some ghee it will yields soft puttu.
Have you seen other kerala recipes?