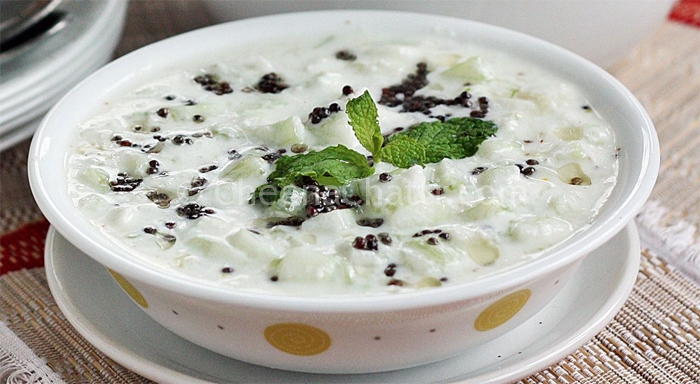 Prepration time:
45 Minutes
Persons served:
4 Persons
ingredients
Curd : 1/4Liters
Ripe pumpkin : 15 g
Pineapple : 25 g
Grated coconut : from one quarter of a coconut (for the coconut milk)
Grated coconut : from one half of a coconut (for the paste)
Mustard seeds : 1 tsp
Green chillies : 10 g
Turmeric powder - 1 tsp
Ripe banana (Ethappazham) : 1
Tomato : 20 g
Chilli powder : 1 tsp
Jaggery : 25 g
Raisins : 10 g
Coconut oil : 2 tsp
Mustard seeds : 1 tsp
Dry red chillies (whole) : 1 or 2
Curry leaves : 2 sprigs
Salt : to taste
Vishu is approaching fast and I am not sure whether we will be able to cover all the dishes needed for sadhya before it due to lack of time. But we will try to give you some of the best side dishes for Kerala sadhya before Vishu. Pachadi is our third dish for your Vishu Sadhya.
Pachadi is a popular side dish in Kerala sadhya / feast. The main ingredient in pachadi is curd. Pachadi can be made with a variety of vegetables. In this recipe we use pumpkin, pineapple and banana.
Kerala pachadi is a famous south Indian side dish served even on international platters.
Pachadi preperation
To ¼th liter of water add one quarter of a grated coconut, mash them well together and squeeze out the coconut milk.
Mix the mustard seeds, green chillies and  grated coconut (from one half of a coconut) together and grind it well into a paste.
Cut the ripe pumpkin into small cubical pieces, wash it and keep them aside.
Slice the tomatoes, banana  and the pineapple into small pieces and add one litre of water, chilli powder,  turmeric powder, salt and curry leaves to this and cook till done.
Add the jaggery when it is cooked well, and continue to heat until it is dry.
Add the earlier prepared coconut milk, the coconut-chilli paste (#2) and curd and allow it to boil.
Remove from the flame  when it boils and add the raisins.
Seasoning
Heat the coconut oil in a pan together with the mustard seeds. When the mustard seeds starts crackling add the dry red chillies and the curry leaves. Fry for a short while and pour it to the curry.
Have you tried our other pachadi recipes too?