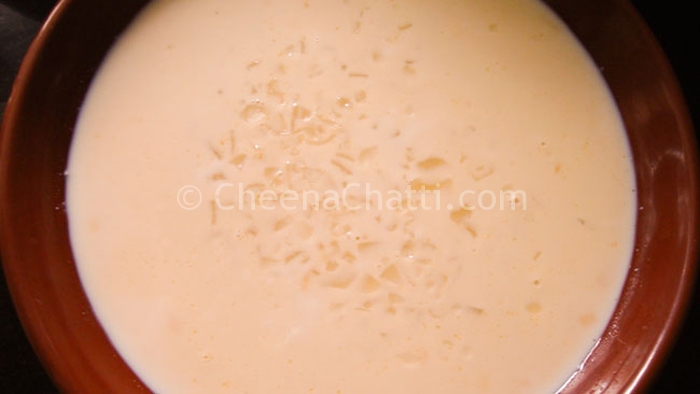 Prepration time:
45 Minutes
Persons served:
4 Persons
ingredients
Unakkalari / uncooked rice : 300 g
Coconut oil : 2 tsp
Milk : 4 Litre
Sugar : 50 g
Sugar : 800 g
Another post in the Vishu sadhya series. This is palada pradhaman aka palada payasam which is a delicious dessert prepared using rice and milk. It is served usually in the end of Kerala sadhya (grand feast) along with pappadam and banana. It is an easy to prepare pradhaman with little effort. This dessert will give your guest unforgettable memories of the delicious Onam sadhya.
Wash the rice well and grind it into small pieces.
Add sugar and the coconut oil to it, and mix it till it is becomes thinner than dosa batter consistency, but thick enough to be spread on a leaf.
Tear the banana leaves into five portions and remove the fibers. Spread the batter on each leaf,  flatten and smoothen it out.
In a vessel heat some water and when it boils well, add the flattened ada into it.
Switch of the flames when the adas are cooked well and drain the water
Gently separate each ada from the leaf when it cools.
Cut each of the adas into very small pieces.
Into an urli pour some milk and when it boils add the sugar and continue boiling until it thickens.
Add the ada pieces into it When the solution is well reduced / thickened.
Blend the well boiled milk and the ada together.
When it reaches the consistency that makes it ready to serve, remove from the flame.
Serve it…..