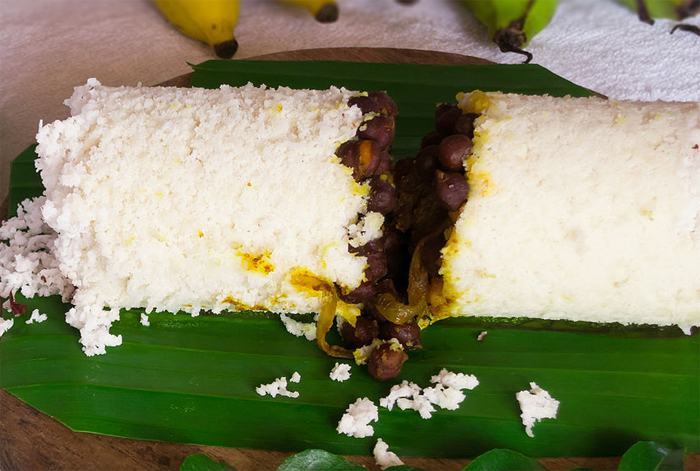 Prepration time:
15 Minutes
Persons served:
4 Persons
ingredients
Raw Rice(Pachari) - 1/2 kg
or Rice flour : 2cups
Grated Coconut – 3/4 to 1 cup
Water – 1/2 – 3/4 cup
Salt
Puttu aka "rice steamed cake" is one of Kerala's traditional breakfast item. Kerala Puttu is usually served with Banana, pappadam or Kadala curry.
Puttu is one of the favorite breakfast in Kerala which is also very easy to make. Now a days you can even buy ready to use puttu powder (flour) in all the stores. There are many variants of puttu like Chiratta puttu,  Kappa puttu, Rava puttu etc… Here is the recipe for making the common puttu.
Puttu recipe
Soak rice for about 2 hours  (You can skip directly to step 4 if you are starting with rice flour).
Drain the water completely and dry the wet rice in a cool place and grind it to coarse powder.
In a pan heat the rice powder for 3-4 minutes but do not roast and let it cool.
In a large bowl, take the powder and sprinkle water on the flour (Be careful in mixing water. The perfect combination of water and rice powder gives the good result).
Add salt to taste and mix it thoroughly with hand. (It should be a bread crumb consistency and not form a dough.)
In a Puttu Kutti (Puttu making vessel easily available in the market) add 2 cups water to the bottom vessel of the puttu maker and allow to simmer till hot. Place the round perforated disc with holes inside the puttu maker such that it fits well at the bottom of the mould. Place 1 layer of grated coconut at the bottom of the puttu maker. Carefully and slowly add about 6 tbsps of the puttu powder from a height followed by another layer of  grated coconut. Again you can layer with 6 tbsps of puttu powder and finish off with 1 layer of grated coconut on the top. Place the lid over the puttu mould and place the mould over the bottom vessel.
Steam it for 10 minutes.
Serve hot with Ground nut (Kadala Curry), Green gram curry (Cheru payar), Cowpea ( Vanpayar ) curry or Mutta ( Egg ) Curry.
Tips
Fill the rice and coconut as loose layers.
Serve hot/warm with banana or curry of your choice or with pappadam.
If you add some ghee it will yields soft puttu.
Need more kerala recipes? Dont worry, try these.