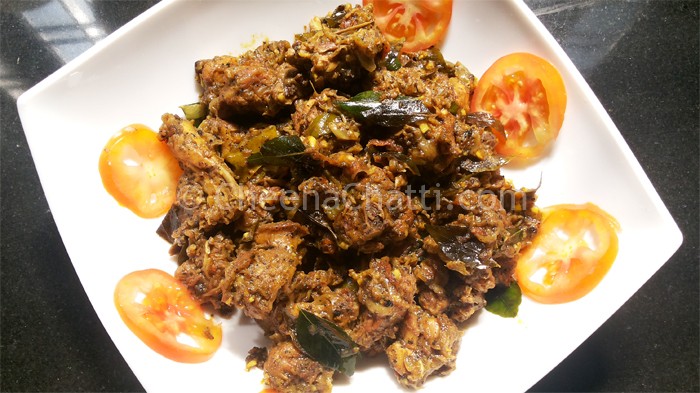 Prepration time:
60 Minutes
Persons served:
4 Persons
ingredients
Chicken pieces (medium sized) : 1 Kg
Chilly powder : 1 tsp
Turmeric powder : 1/4 tsp
Pepper powder : 1/2 tsp
Ginger : 1 inch piece
Garlic : 6 cloves
Coconut oil : 2 table spoon
Onion (sliced into thin pieces) : 2 nos
Gambooge / Kudampuli / Vadakkan puli : 2 nos
Water : as needed
Salt : as needed
Here is another dish with chicken. Most of you may have taken this Chicken pepper fry from outside restaurants but wondered of how to prepare them at home. Then here it is. Next time when you have a guest at home try this and make them love your foods. 🙂
Directions for preparing chicken pepper fry
Blend the garlic and ginger into a fine paste.

Mix it with the chilly powder, turmeric powder, pepper powder and salt in a bowl and blend it well.

Apply it to the chicken pieces and keep it for 30 to 45 minutes.
In a pan, pour the oil and add the onions. Saute it till the onions become golden brown.
Add the chicken pieces to the pan and heat it for around 15 minutes in a low flame.
Add some water to the pan and allow the chicken to get cooked.
When the chicken gets cooked, add the gambooge.
Keep it in low flame until the water dries up and the preparation becomes dark (Depending on your choice, you can adjust the thickness of gravy).
Feel free to share your thoughts and preparations below and let me also get some more ideas.