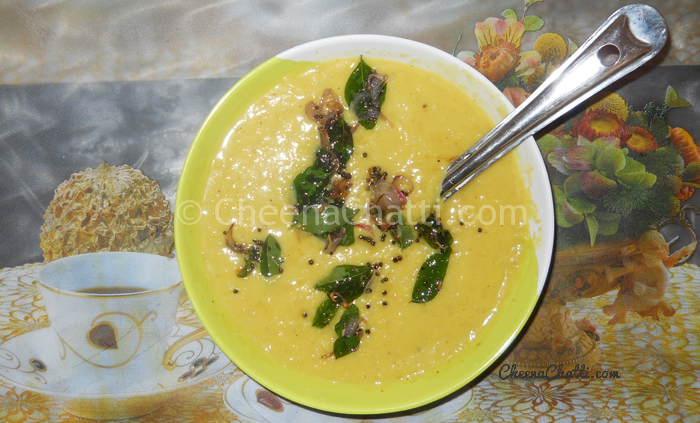 Prepration time:
30 Minutes
Persons served:
5 Persons
ingredients
Moong dal (Cheruparippu): 250 gm
Turmeric powder : 1/2tsp
Water : 350 ml
Grinded coconut : 3 table spoon
Garlic clove : 1 - 2
Green chillies : 3 nos
Red chillies : 2 nos
Turmeric powder : 2tsp
Curry leaves : 2 twig
Onion Shallots (kochulli) : 1 nos
Salt : as needed
Ghee : 1/2 tsp
Today I will give you a recipe of making tasty traditional Kerala style parippu curry (parippu koottan / Moong dal curry). This Moong dal recipe is really an easy one to prepare one. Parippu curry can be served with Appam, Steamed rice, Thenga choru etc. Moong dal curry is an inevitable side dish in the traditional Kerala sadhya / grand feast. Don't forget to let me know your comments after trying this special moong dal recipe.
Cheru parippu curry preparation
Pressure cook the moong dhal with half tea spoon turmeric powder until you hear three whistles.

The moong dhal should be completely sank in water.

Make a fine paste of 3 table spoon of grinded coconut, 1 clove garlic, 1/2 of a green chilly, 1/4 tsp turmeric powder in a mixer.
Add the #2 mix to the moong dhal.
Add salt and additional water if needed.
In a pan add oil, mustard seeds, finely chopped onion shallots (kochulli) , 1 to 2 green chillies sliced length vise, 2 red chillies, curry leaves and saute till it become golden brown.
Add (#5) to the moong dhal mix and serve hot with bolied rice / Thengachoru /
Tips
Adding a little ghee to the top of curry will make it more tastier.

Some people even fry the moong dal before using. I haven't tried it that way.
You can also try more dal recipes from our collection.