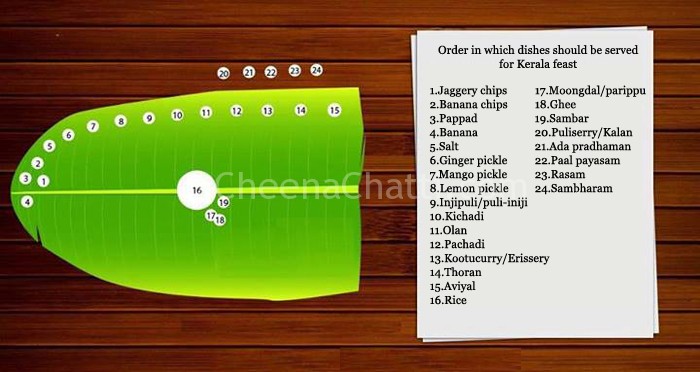 Onam is the state festival of Kerala which has a history as old as the history of Kerala. It is celebrated as a joyous annual reminiscence of the golden rule of a mythical King Mahabali,  who ruled Kerala a very long time ago. You can read more about this story behind Onam here.
Although the Onam festival has its origin in Hindu mythology, in the secular state of Kerala it is celebrated with equal fervor by people of all religion. Onam falls during the month of Chingam, the first month of the Malayalam Calendar, usually in August–September. The celebrations begin within a fortnight of the month Chingam and go on for ten days. The last day called the "Thiruvonam" is the most important.
The most important things about Onam are the
Onapookalam  (multi-coloured floral decoration on the ground in the front of their home).
Onakkodi (the new clothes worn on the day of thiruvonam).
Vallamkali (the snake boat race).
Onasadya (the grand Kerala feast) which is quite elaborate.
Onasadya / Onam sadya
All Keralites prepares Onasadya in a grand fashion irrespective of their wealth. There is also a saying in Kerala 'Kaanam Vittum Unnanam' which means "People should even sell all their possessions for one Onasadya".  Funny? 😉
Its a strictly vegetarian meal with Rice as the main ingredient. The sadya is served on banana leaves and serves rice along with minimum 4 dishes excluding traditional pickles and papadam followed by at-least one dessert. The side dishes (usually 11, but can go even beyond 20) are Kalan or Pulisseri, Erissery, Olan, Pachadi, Kichadi, Thoran, Mulakoshyam, Koottukari, Aviyal, Sambar, Rasam, Upperi or chips, Pickles (achaar), Pappads (pappadam). This colorful arrangement of the food on the lush green banana leaves makes it even more tempting and irresistible.
The desserts are Payasams & Prathamans.
Dishes for Onasadya
Banana chips
Ginger pickle
Mango pickle (preferably kadumanga achar)
Inji puli / Puli inji
Kichadi
Kootucurry/Erissery
Rice
Sambar
Rasam
Sorry, as CheenaChatti webpage is in its initial days, the recipes for some of the dishes are not available.
How to serve sadya dishes?
The meal is traditionally served on a mat laid on the floor. The dishes has to be served on a tender banana leaf, laid with the end to the left side of the guest.
The main ingredient Rice is served only when the guests seat themselves. Only just two big spoons of rice is served initially. After this "parippu" and ghee is poured. Then comes Sambhar, Kalan (pulissery) and Rasam. The second round goes with 1 big spoon of rice and the desserts like adaprathaman ,Kadala Payasam, paal payasam etc. The third and final round of rice is served with Sambharam / Butter milk. That finishes serving the dishes. The guests are supposed to fold the leaves after finishing their lunch.
Happy Onam to all of our friends and hope you all will have a delicious Onasadhya 😉
Cover photo courtesy : Satheesh Thomas