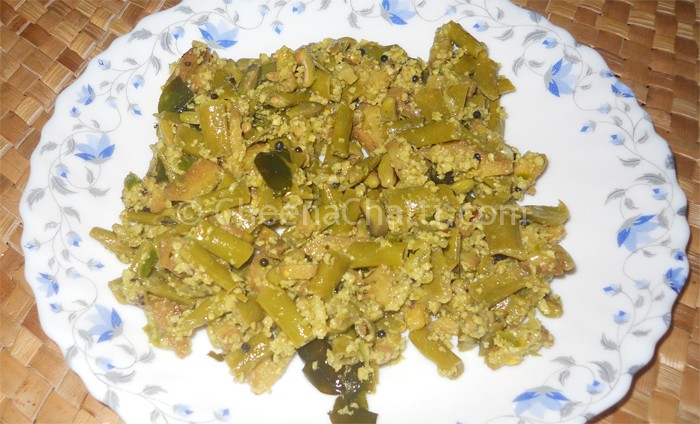 Prepration time:
30 Minutes
Persons served:
4 Persons
ingredients
Raw plantain : 1 no (Sliced into small cubes)
Long yard beans / Pacha Payar (chopped) : 1/2 cup
Shallots / Pearl Onions: 2-3 nos
Curry leaves : 1 sprig
Grated Coconut : 1/2 cup
Dried Red chillies : 2-3nos (optional)
Green chillies : 3
Mustard seeds : 1tsp
Turmeric powder: 1/4 teaspoon
Oil : 2 tbsp
Salt : as needed
Thoran is a very popular and common Kerala dry dish traditionally made of finely chopped vegetables (any vegetable  of choice) such as bitter-gourd,  unripe jack fruit, cabbage or leaves such as green or red cheera,  Moringa etc. These chopped vegetables are mixed with grated coconut, mustard seeds, curry leaves and turmeric powder and briefly stirred on a pan over a very hot fire. Thoran is usually served along with steamed rice.
Following recipe is for preparation of Payar (Long yard beans) and ethakka (Raw plantain)  thoran (stir fry). Let me know your comments or thoughts after trying this.
Preparation of Payar Kaya thoran
Peel the plantain and chop it into small cubes. Chop the long yard bean also.
Wash them thoroughly under running water.

Cook the sliced plantain and the beans together with half cup water, salt and turmeric powder in a pan.

Mix the grated coconut, green chillies,shallots to a coarse form in a mixer  (optional red chillies too) .
When the plantain and beans are cooked add the ingredients in the mixer to the pan and saute.
Cover the pan and cook on medium heat and saute in between.
In another pan add oil,  splutter mustard seeds and curry leaves and saute.
Transfer the cooked ingredients (#4) to  the second pan (#5) and cook till the plantain become soft.
Serve hot with rice and curd.