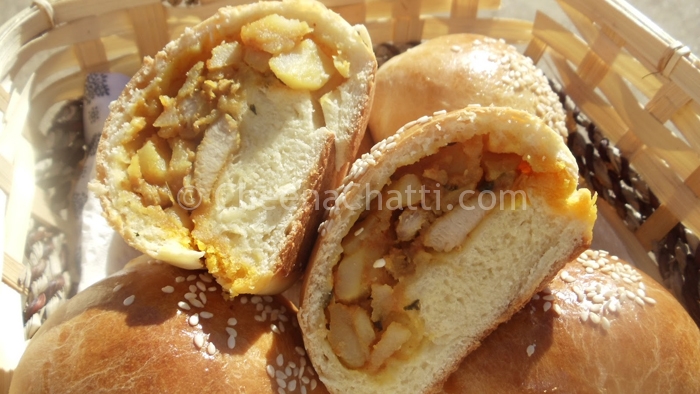 Prepration time:
15 Minutes
Persons served:
3 Persons
ingredients
Bun : 6nos
Finely sliced chicken : 300gm
Ginger, Garlic paste : 2 table spoon
Tomato sauce : 1/2 cup
Butter : 5cups
Mint leaves : 1/2 cup (finely chopped)
Coriander leaves : 1/2 tsp (finely chopped)
Chilly powder, Turmeric powder, Lemon juice : 1/2 tsp each
Green chillies : 4 sliced
Cheese : 1 cup, grated
White sesame seeds for sprinkling
Its long time since I posted a non veg snack. Sorry guys, I got trapped in the jackfruit mania.
Here is a simple but tasty snack for your kids lunch box. At home sometimes we serves it for breakfast, as a lunch box snack or an after school snack for my brothers kids. They love it. Since chicken meat is lean i.e with out fat, its healthy too.
Chicken buns preparation
Scoop out the center portion of three buns.

Spread the grated cheese in the inner cavity of these buns.

Mix the meat and all other ingredients together (except 1 table spoon butter and cheese).
Fry the mix (#3) with the remaining butter for some time.
Fill a part of this fried mix within the scooped out buns.
Cover the cavity with the scooped out buns.
Bake it for 8-10 minute in an oven with ghee.
Sprinkle the top with sesame seeds.
Serve the chicken buns hot with tomato sauce.
Kids will love this recipe. Don't forget to share the outcome with me if you have tried it. Simply drop your suggestions or comments below. Also tell me if you have prepared it with any variation (differently) and I will add it to the collection.