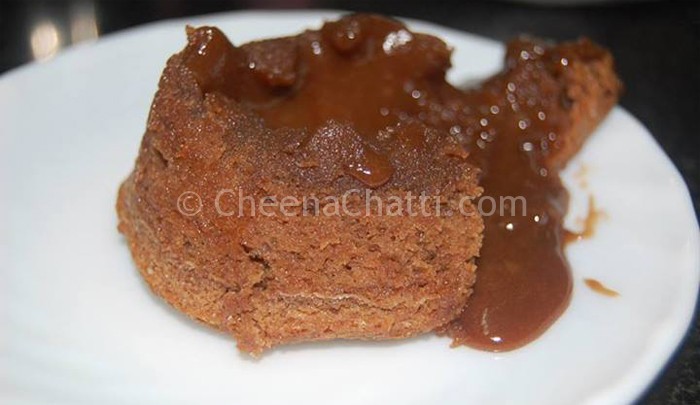 Prepration time:
30 Minutes
Persons served:
6 Persons
ingredients
Plain flour - 2 table spoon
Butter/ghee/oil - 4 table spoon
Eggs - 2 in room temperature
Cooking chocolate 100 to 150 gram
Sugar - 1/2 cup (Powdered) (Keep 1 tb sp out of it to dust ramekins)
Vanila essence - 2 drops
Molten Lava Cake preparation Instructions
Crack 2 eggs in to a large bowl.  Whisk it.
Add powdered sugar and whisk gently.
Grate cooking chocolate.
Melt butter/ghee in a thick bottomed sauce pan in a low heat.
Add in the grated chocolate and stir well.
When its getting melted, switch off the flame.
Let is rest for a few minutes.
Then add this to egg sugar mixture and stir thoroughly.
Add in 2 drops of vanilla essence.
At last fold 1 table spoon flour in it without lumps.
Then again another table spoon of flour.
The batter for molten lava cake is ready.
Preheat the oven in 220 d.
Lightly apply butter in each ramekins.
Then dust it with  powdered sugar.
Fill in 3/4 of the ramekins with the batter.
Bake the cake in 220 for 14 minutes.
When its baked, take the ramekins out of the oven and let it sit for a minute,  Run a knife through the sides of the cake and invert it to a serving dish.
Cut and open the side portion of the small cake and you can see delicious chocolate lava is oozing out..!!
Serve hot with any side dish..
By referring this recipe, you can prepare 6 molten lava cakes, if you use small sized ramekins.