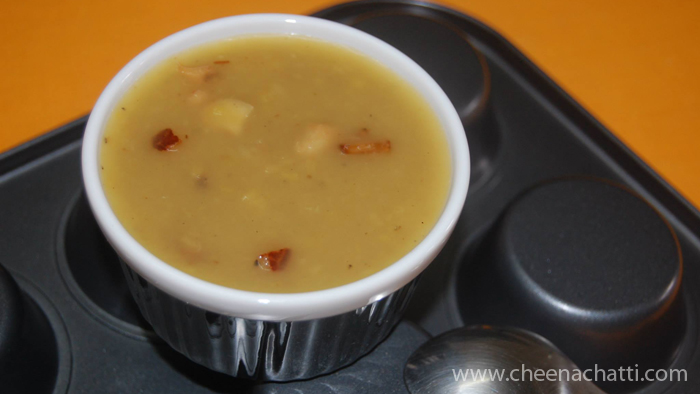 Prepration time:
30 Minutes
Persons served:
3 Persons
ingredients
Moong dal : 3/4 cup
Jaggery : 200 g
Fresh coconut milk (1) : 1/2 cup
Coconut milk (2) / Randam paal : 2 cups
Dry ginger powder : 1/4 teaspoon
Dry coconut pieces : a hand full
Cashew nuts : a few
Cardamom : 2 nos
Ghee : 2 table spoons
Its our second Onam after the launching of cheenachatti.com. We are so happy to see the immense support we received from you people. Thank you all for your  support, suggestions and comments. You can find a lot of Onam recipes from our site and we have even a post on how to serve onasadhya.
Last week we shared aval payasam recipe. Hope you all have tried it.  This Onam we are sharing an absolutely delicious recipe of Moong Dal Payasam / Parippu payasam recipe. Parippu Payasam is a one among the many verities of payasams (puddings) in south India, especially popular in Kerala and Tamilnadu, made with milk & rice on festivals such as Onam, Vishu etc.
Parippu payasam preparation
Wash and dry the dal in sunlight.
Roast the dried dal with a teaspoon of ghee in a cooker. Do not let it burn/ turn brown colored.
Stirfry it without taking hand. When its done, switch off and let it cool for some time.
Later, add the second extract (randam pal) coconut milk to the fried dal and cook for 2 whistles.
Release the pressure after sometime.
In the meantime, add two table spoons of water to a heavy bottom vessel and melt jaggery over a very low flame. Switch it off.
Open the cooker and add melted jaggery through a strainer.
Mix well and let it bubble for a few minutes.
Then add the first extract (onnam pal) of coconut milk and mix thoroughly.
When the kheer is about to bubble add the dry ginger powder and cardamom powder.
Mix well and switch it off.
In a small kadai, add rest of the ghee and fry coconut pieces until golden brown, then add the cashew pieces.
Fry it and add into the kheer.
Keep it for half an hour and serve hot!
May the spirit of Onam remains everywhere Whatever you do Whatever you think Whatever you hope in your life "Wish you a Happy Onam!".